'Suits' Cast Reunion Confirmed As Meghan Markle Calls Show's Resurgence 'Wild'
The show's creator and cast members will join a panel discussion during season 13 of the ATX TV Festival.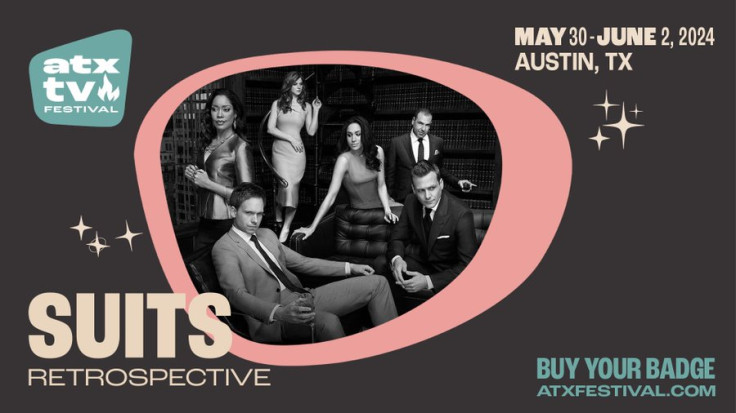 The cast and crew of "Suits" are set to join a five-year anniversary panel for season 13 of the ATX TV Festival, which will take place next year from May 30 to June 2 in Austin, Texas.
Confirmed participants on the panel include "Suits" creator/executive producer/showrunner Aaron Korsh and cast members Patrick J. Adams, Sarah Rafferty and Dulé Hill, with more to be announced soon.
Adams played Mike Ross, the on-screen love interest of Meghan Markle's character, Rachel Zane, in the legal series. Meanwhile, Rafferty and Hill portrayed legal secretary Donna Paulsen and lawyer Alex Williams, respectively.
The reunion would mark five years since "Suits" ended in 2019. However, the series regained interest after it became available to stream over at Netflix and Peacock. It received an astonishing 3.1 billion viewing minutes in its first week on both streamers and 3.7 billion viewing minutes the following week.
Korsh attributed the show's reemergence to several factors including Meghan Markle. He acknowledged that "there's some component of people being fascinated to see what Meghan was like before she was married to Harry".
He told the New York Post: "Look, I love the fact that Meghan is now helping us. I think she did an amazing job on the show and I love that people can see her."
Korsh added: "The reason I don't think that's the only reason [for the viewership spike] is that she's been married to Harry for many years and 'Suits' has been out there for many years — and, for whatever reason, people started watching it this summer."
Meghan Markle also recently commented on the newfound interest on "Suits" during a red carpet interview at Variety's Power of Women gala in Los Angeles. She called its reemergence "wild" and admitted she has no idea what made it so.
But she guessed that it could be because the show is great in itself saying: "It's hard to find a show you can binge-watch that many episodes of these days, so that could have something to do with [its new popularity]."
She added: "It was great to work on, such a great cast and crew. We had a really fun time. I was on it for seven seasons, so quite a bit."
It is unclear if Meghan Markle will join the "Suits" reunion at next year's ATX TV Festival. She was at the 2017 festival when the cast celebrated the show's 100th episode with a pilot reading. She also filmed 100 episodes of the series before she quit acting for good and married Prince Harry in 2018.
© Copyright IBTimes 2023. All rights reserved.