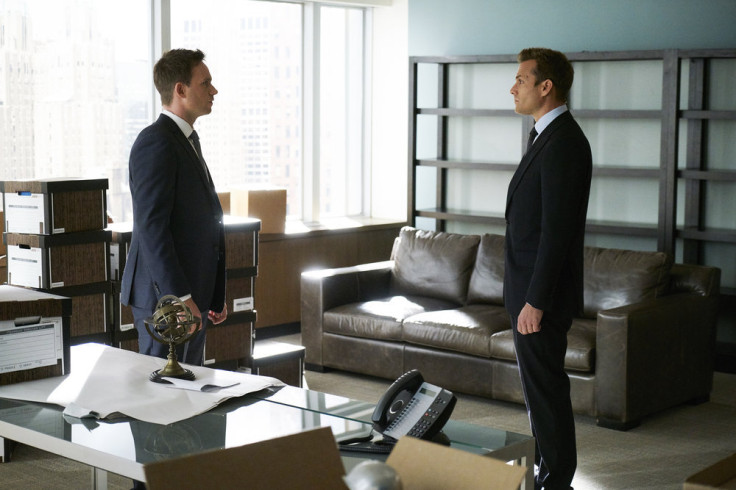 USA Network has released the official synopsis for Suits season 7's premiere chapter, which is set to air on 12 July at 9pm EST. Episode 1 is titled, Skin In The Game, and the plot teases new beginnings for the show's lead characters, Harvey Specter and Mike Ross.
The official synopsis for the premiere episode reads as follows:
Season 6 of the legal drama series ended on a happy note, with Mike finally becoming a lawyer and immediately being offered a job in Pearson Specter Litt by his mentor, Harvey. The new season will find Mike back at PSL and adjusting to the new status quo with Harvey in charge and Jessica gone for good.
According to Patrick J Adams, who plays Mike, his character will be fighting for his conscience in a corporate firm in season 7.
"That's the fix he got at the beginning, I actually changed this woman's life and did something great for her. It sets the pace for this character, where he's still changing peoples lives, but he still has to balance that with working in a law firm."Adams told Deadline at the ATX Television Festival back in June.
Meghan Markle's character Rachel Zane finally became a lawyer in the May finale after serving as a paralegal for almost six seasons.
"I'm so happy that, especially reading the pilot again, you can just see where she started. To watch that progression, she's worked so hard. I love that as a role model, how she's been crafted to balance it all," Markle said.
Showrunner Aaron Korsh previously spoke to The Hollywood Reporter about Mike and Harvey's plot in season 7.
"So [season] seven is about seeing how this team is going to work together with their new power dynamics, how the firm is going to work with Jessica's absence and how Harvey is going to respond to being in a power position as opposed to the freelance superstar. Those are the questions we're discussing moving forward," Korsh told THR.