Supernatural mid-season finale left fans wanting more of the dark Dean.
Dean had been struggling with his Mark of Cain in the last few episodes, but he finally gave in to the dark temptations in the epic one-hour fall finale.
Episode 9 titled, The Things We Left Behind, saw Dean's slow descent into madness and his blood lust.
The new promo released shows Dean out on a hunt for Metatron, who is responsible for making him a demon, and killing and punching everyone who stands in the way.
Metatron says about Dean: "Full-out, foaming-at-the-mouth maniac. He's gone nuclear."
Sam and Castiel
In the fall finale episode, Sam and Castiel witnessed the elder Winchester's descend into darkness. The duo will try to save Dean, but will they successfully cure him?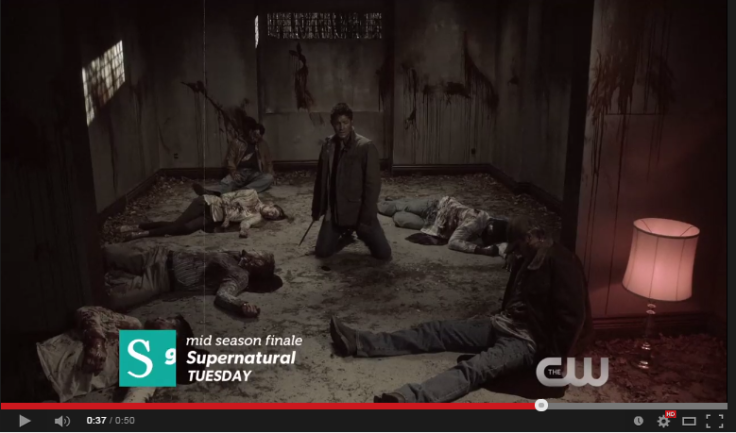 The last time Sam almost got killed while trying to cure his elder brother, and going by promos, Dean is even more ruthless and dark this time.
There is also another matter of the talk that Dean had with Castiel in episode 10.
The elder Winchester brother tells Castiel: "Knife me, spike me, throw me into the freaking sun, and don't let Sam get the way because he will try."
"I can't go down that road again.. I can't be that thing again," says Dean.
The 21-second promo released by the CW also shows Castiel in action.
Will Castiel kill Dean?
The series will return with all new episodes on Tuesday, January 20<sup>th, 2015.
The 10th episode is titled The Hunter Games and the 11th episode is titled, There's No Place Like Home.
#Supernatural "Theres No Place Like Home" will air Jan 27th. "The Hunter Games" will air Jan 20th. we shot them out of order

— Todd Aronauer (@TAronauer) December 10, 2014
Jensen Ackles and Jared Padalecki, who play Dean and Sam, talk about the road so far, and the series' future seasons.
Ackles told TVGuide: "I think it would be a lot of fun if we took a handful of episodes, maybe half a dozen at the most, where we went from town to town and we took a small crew and we actually did a road show."
When asked what Supernatural would handle next, Jared Padalecki diplomatically replied: "We have some phenomenally talented writers. Otherwise we wouldn't have traveled this far. And so I'm looking forward to see what they think up.
"I'm just going to sit back and enjoy the ride because they are going places I never would have dreamt," the actor added.
Watch the promo for episode 10 here: