Microsoft's Surface Pro 3 turned out to be the fastest tablet, beating its top rivals such as Apple's second generation iPad Air and Google's 9in Nexus tablet, suggests a speed test.
Folks at popular device testing and reviewing site, Which? have managed to get Microsoft's third generation Surface series tablet in their lab and run a speed test using Geekbench software, the cross-platform processor benchmark for Mac OS X, Windows, Linux, Android, BlackBerry and iOS.
The Geekbench puts the tablets' processors through their paces and shows how quickly they can complete the simulation of everyday usage. The test also checks where a tablet can reflect the Geekbench scores in tasks such as video streaming from YouTube and transferring large amount of data.
In the Geekbench test the Surface Pro 3 was tested against more than half a dozen rival tablets including Amazon Kindle Fire HDX, iPad Air (1<sup>st Gen), Samsung's Galaxy Tab Pro 10.1, Asus Memo Pad 7 and Tesco Hudl2, along with the iPad Air 2 and Nexus 9.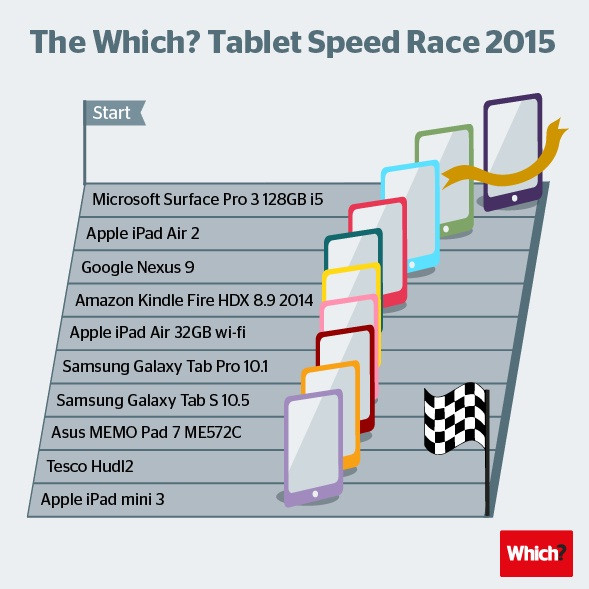 The test suggests that the Surface Pro 3 (128GB running fourth generation Intel Core i5 processor) was 20% faster than any of its rival tablets and was the winner in the test scoring the highest points, leaving the iPad Air 2 and Nexus 9 in the second and third positions respectively.
Amazon's Kindle Fire HDX 8.9in was just a few points behind the Nexus 9, grabbing the fourth place in the test.
Apple's iPad mini 3 appeared to be the slowest of all in terms of speed with the lowest score at 1790 points. Following is a list of the Geekbench test.
Microsoft Surface Pro 3 128GB i5: 5069
Apple iPad Air 2: 4046
Google Nexus 9: 3537
Amazon Kindle Fire HDX 8.9 2014: 3060
Apple iPad Air 32GB wi-fi: 2687
Samsung Galaxy Tab Pro 10.1: 2650
Samsung Galaxy Tab S 10.5: 2594
Asus MEMO Pad 7 ME572C: 2351
Tesco Hudl 2: 2084
Apple iPad mini 3: 1790
The Surface Pro 3 is available for purchase from Microsoft Stores in the UK starting at £639 for the 64GB model powered with Intel i3.
Source: Which?