Surrey man drinks a shot of world's hottest chilli vodka and has to be taken to hospital
'Satan's Shot' vodka had been bought at a chilli festival on Sunday before being shared among friends.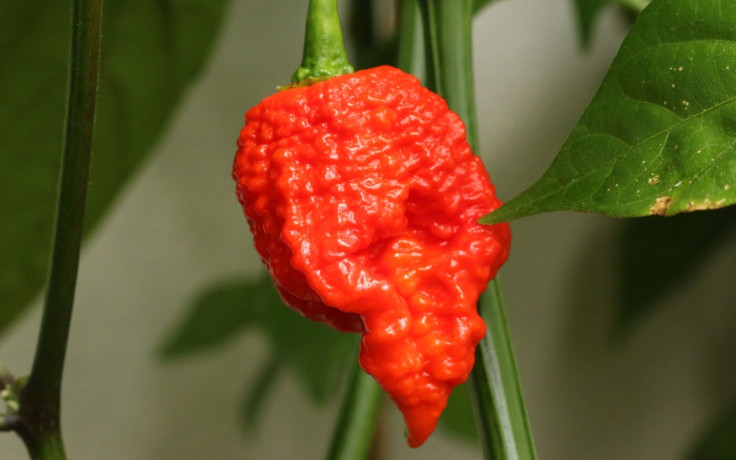 A man was hospitalised after drinking a shot of vodka infused with the hottest type of chilli in the world.
Satan's Shot vodka, which is soaked in Carolina Reaper chillis before being bottled, was poured to drinkers at The White Hart pub in Godalming, Surrey on Sunday (23 July).
A bottle of the spirit had been purchased earlier that day by one of the group at Guildford Cheese and Chilli Festival, Get Surrey reported.
The drink's label warns: "Satan's Shot – Triple distilled 100% pure grain vodka infused by the Chilli Pepper Company for three weeks with the world's hottest chili, the Carolina Reaper.
"Only Satan himself is brave enough to drink this vodka neat.
"If you feel fearless and want to drink with Satan, you will feel like you are burning in hell itself."
Emma Mirrington, 42, from Farncombe, who bought the bottle, said things took a turn for the worse after she decided to share it with friends.
"I bought the vodka at the festival and when I got home we thought we should share it with a group of friends," she said.
"There were about eight of us affected – I have never seen anything like it."
One man became so ill the group had to call an ambulance.
A South East Coast Ambulance spokesperson confirmed paramedics had attended the scene and taken one person to the Royal Surrey County Hospital.
They said they were called to reports of a "man aged in his 30s and unconscious" at The White Hart pub.
"It was reported to us that he had consumed a particular type of vodka," they added.
A spokesperson for the Cheese and Chilli Festival said the company which made the vodka has "all the licences required and is a reputable company". It said rumours which spread on social media that the drink may have contained anti-freeze were false.
They added: "We are continuing work with the relevant authorities as part of an ongoing investigation and will release information in due course."
The company which sold the vodka told Get Surrey: "We know about hot things and know what happens when someone has something too hot for them.
"We're professionals as far as chilli goes and the reaction they have had sounds like the reaction from when someone has something too hot.
"We don't want to hurt anyone but we produce chilli sauces, that's what we do.
"I know people have reactions when they have something too hot but there's a warning on the back of the bottle."
© Copyright IBTimes 2023. All rights reserved.