A survivor has described his escape from an avalanche that buried a three-storey Italian luxury spa hotel under ice and snow.
The avalanche is believed to have been triggered by earthquakes that struck the Abruzzo region of central Italy yesterday (18 January), and hit the Rigopiano hotel close to the Gran Sasso mountain in the early hours of this morning.
Up to 30 people are believed to have been in the hotel when it struck, with the force of the avalanche shifting the building 10 metres.
Rescue teams struggled through a blizzard to reach the hotel, and the first arrived on skis at 4am local time, with two survivors so far found, according to local reports.
One survivor described his escape to Italian news agency Ansa.
Survivor Giampaolo Parete, 38, said: "I am alive because I had to go to fetch something in my car. When the avalanche hit the hotel, I was buried in the snow, but I managed to get out of it. The car was not buried, so that's where I waited for the rescue staff to arrive."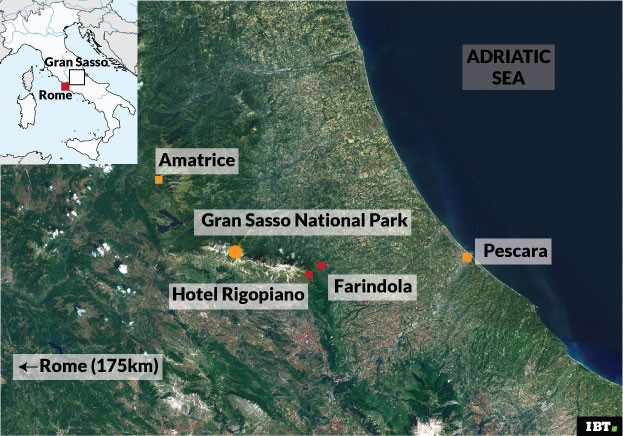 He said he raised the alarm using the WattsApp messaging app. His wife and two children were still in the devastated hotel, he said.
The other survivor was also reportedly outside the hotel when the avalanche hit the building.
Authorities earlier said that they believed 20 tourists and seven staff had been in the hotel when the avalanche struck. The prefecture of Pescara has confirmed the death of one man, whose body was recovered earlier this morning.
Italian authorities are reportedly working to get rescue vehicles to the hotel, with roads blocked by metres of snow. Rescue workers are digging through ice and snow with their hands because of the lack of equipment.
The location of the avalanche is approximately 100km south of Amatrice, where a devastating earthquake struck in August, 2016, killed 298 people.
On Tuesday, hotel staff tweeted: "A dream Tuesday at Rigopiano... the snow has given us the gift of spectacular scenery!"