First it was a tasteless gift shop, then a VIP soiree, now plans are in place at the 9/11 museum for a 80-seat restaurant to be opened within the solemn grounds to the memorial site.
The Pavilion Café, which will be run by restaurateur Danny Meyer, is scheduled to open this summer inside the National September 11 Memorial & Museum.
The menu is expected to offer "an array of local, seasonal fare in a relaxing and comfortable environment" according a notice in the official museum guide.
Some of the proceeds would be ploughed back into the museum.
"We're not doing this for crass or commercial reasons", Meyer told the New York Post.
The latest development is a "final insult" to survivor families who complained recently at 8,000 unidentified remains being stored near a gift shop of the museum.
It also follows families and first responders who were turned away from the museum while a black-tie VIP party was being held before the museum's official opening this week, which reportedly had Bloomberg and Condé Nast executives and former Mayor Michael Bloomberg among its guest list, noshing on crab cakes and shrimp cocktail hors d'oeuvres.
One employee, who did not want to be named, said: "They were drinking, eating and laughing when this is pretty much a gravesite."
"This small gathering was done respectfully and in recognition of our supporters who helped to build the memorial and museum," spokesman Michael Frazier told the New York Daily News.
"Among the attendees were 9/11 family members."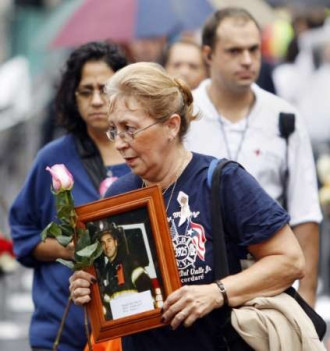 John Feal, a Ground Zero volunteer and activist for 9/11 first responders, said: "To have a festive occasion on human remains, it's repulsive, it's repugnant."
Sally Regenhard, the mother of firefighter Christian Regenhard, who was killed on 9/11, said: "This is a prime example of why the remains must be removed immediately from this building — from this site of commercialism, parties, drinking, catering.
"This is a destination spot. This is a place they've turned into a social place for gatherings and festivities."
She added: "This is the final insult and desecration of these 9/11 remains."
The opening of a gift shop at the museum, selling World Trade Center-printed ties and other tasteless trinkets, was also considered offensive to family members where 8,000 unidentified remains are located nearby in the basement.
"Here is essentially our tomb of the unknown. To sell baubles I find quite shocking and repugnant," Diane Horning, who lost her 26-year-old son Matthew in the attacks, told the New York Post.
Sally Regenhard, whose son, a firefighter, was killed in the World Trade Centre attack, said: "I am so angry. I am outraged.
"The human remains of my son and all of the victims should be in a beautiful and respectful memorial, not in the basement of a museum."