Shahrour, 54, lives in Arbeen, in the suburbs of Damascus along with his extended family where there is a total of 18 people living in the same house. Shahrour developed diabetes at the start of the Syrian war, due to a lack of insulin. This meant Shahrour's condition worsened, resulting in him having his right foot amputated.
"Before the (war began), I could support my extended family by working as a driver," he said. "As the war worsened, I lost my job and my health deteriorated, which made me unable to work and provide a living for my children."
Shahrour recently suffered a stroke that paralysed half his face and made him lose the vision in his right eye. One of his sons, who is 24-years-old, suffers from chronic asthma and is also unable to work.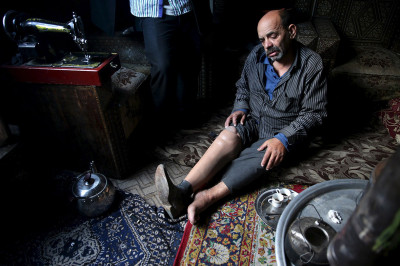 "What terrifies me most is that I am no longer able to buy the medication needed for me and my son, or if one of my children or grandchildren falls ill, God forbid," Shahrour said.
"Two days ago when my pregnant daughter went to hospital in the city of Douma, she needed a drug which was not available in the hospital. I had to find a solution, and I did not have the money to buy the prescription..." He broke down in tears. Two of Shahrour's daughters are married and live in their own homes, yet they are by no means financially secure. His youngest daughter Hadeel, 10, begged passers-by in Douma for help, many people stopped to ask about their situation, but most had no money to give them. In the end, a man helped them pay for the prescription. It costs roughly 3296.28 SYP (£10.35, $15) a month, but the family cannot always contribute to the amount because their income varies each day.
"All my children are barely able to fill their children's mouths after they lost their businesses and now work on daily rates," Shahrour continued. "If a day passes and they don't find work, they cannot afford to buy food for their children."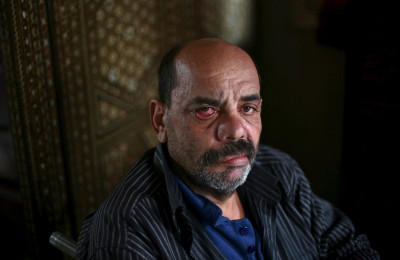 His daughter Hadeel remains determined to go to school despite the risks and the shelling. "I want to become a teacher in future, but I got delayed in my studies," she said. "I couldn't go to school last year because of the shelling." When Reuters photographer Bassam Khabieh arrived at Shahrour's home, Hadeel was at school but as soon as she returned, she ran to her father in his wheelchair, hugged him and kissed his hands.
Hadeel told Bassam later that she loves her father very much and that when he gets money, he will buy her coloured pens instead of her pencils which are wearing out.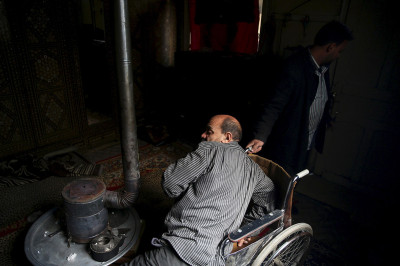 Shahrour went on to explain to Bassam how his family copes in winter, explaining that they "couldn't buy firewood, my children would collect some during the day which would burn in one hour on a long cold winter's night. When the weather got too cold, we burnt the old cotton pillows we had at home."
As Shahrour prepared firewood for warmth, he spoke to Bassam, telling him that he thinks he and his family should flee Arbeen and also leave Syria, but he knows that the situation is no better outside. He said that the financial burdens he may face while fleeing and living outside Syria would be too much.
He and his family have no option but to stay, hoping for a breakthrough to solve their crisis and that of many others in the same situation.