Taiwanese authorities have arrested the developer and two executives of a company which built the 17-storey Weiguan Jinlong (Golden Dragon) tower which collapsed, killing 39 people. The huge building was reduced to rubble during the 6.4-magnitude earthquake, which struck the southern city of Tainan around on 6 February.
Local authorities said some 320 people have been rescued from the fallen building, but the death toll could rise as up to 100 residents remain missing. Heavy machinery has been used to dig around the site of the building in a desperate attempt to rescue injured residents.
The Taiwanese government launched an investigation into the construction of the building complex after blue cans were revealed to have been used in the construction of the building, reportedly used as construction fillers in the beams.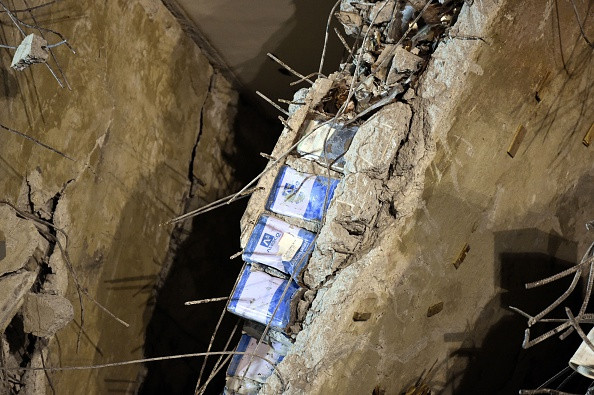 According to CNN, Lin Ming-hui, former chairman of the now disbanded Weiguan company, and two other former executives Chang Kui-an and Cheng Chin-kui face charges of professional negligence resulting in death. In the latest dramatic rescue from the building, an eight-year-old girl was pulled alive from the wreckage more than 60 hours after it collapsed.
A man who was rescued with her told how he wedged himself against a wall for 20 hours to avoid smothering her. "Toward the end, to tell you the truth, I had already given up," said Ko Ching-chung.
"I had no strength left to hold myself up anymore. My body fell on top of her. She would have soon not been able to breathe. I said to her I had to lay on top of her, and she said to me it's OK," he added.
Tainan mayor William Lai has said that he has almost lost hope that a "miracle" would occur and more residents will be pulled out of the wreckage alive. "I'm losing hopes and losing faith in the rescue. If there's no miracle of them coming out alive, I only hope they had passed away quickly and hadn't suffered long," he said, according to a Sky News report.
Taiwan is frequently rattled by earthquakes, although most cause little or no damage. A 7.3-magnitude quake in 1999, the strongest to hit Taiwan in about 100 years, left more than 2,000 people dead.