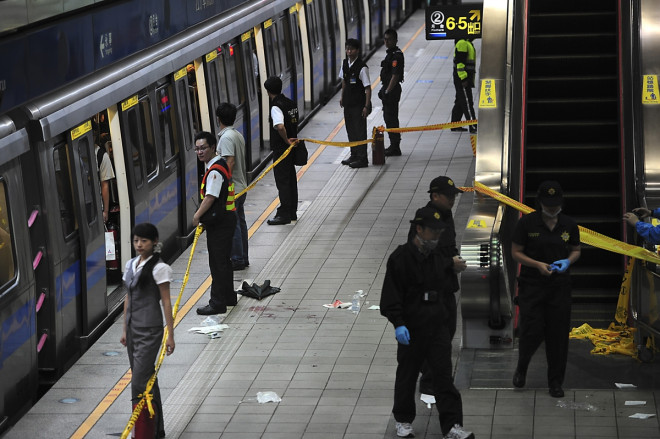 A drunk Taiwanese university student killed four people and injured nearly two dozen more in an unprovoked stabbing spree in Taiwan's capital Taipei, according to local police.
The random rush hour attack at Jiangzicui station on the city's Banqiao metro line by student Cheng Chieh left the train's carriage and station's platform smeared with blood.
Chieh, 21, is a sophomore student at Tunghai University in Taichung, central Taiwan. He has been taken into custody by police, said Taipei police chief Chen Kou-en.
Police said that Chieh used a 10cm knife to attack the passengers. The victims comprise two women aged 47 and 62, and two men aged 20 and 30, according to officials.
A high school student at the scene, identified only as Chuang, was on the platform when the blood-spattered train pulled in.
She told news outlet Focus Taiwan that a woman covered in blood ran out of the doors as soon as the train doors opened, shouting: "There's a [man] inside with a knife attacking at random!"
"I'm so scared, help me!" another victim shouted, Chuang recounted. She added that three people were lying on the floor of the carriage while another passenger collapsed on the platform.