A new app — Talkshow — has taken the app world by storm. Developed by former Twitter executive Michael Sippey, the app is aimed at revolutionising the texting sphere by bringing it out in the open. It allows users to create conversation threads publicly, which can then be viewed by anyone else on the app.
Talkshow founder Sippey said that the app was inspired by a conversation between Taylor Swift and Ed Sheeran, which was posted online. He said in a blog post: "People have been screenshotting texts and posting them on the web for years, but it was this Instagram pic Taylor Swift posted of a conversation with Ed Sheeran that pushed me toward Talkshow. This little exchange is funny, it's personal, and even though Tay and Ed are multi-platinum superstars, their conversation is relatable. Why? Because everybody texts!"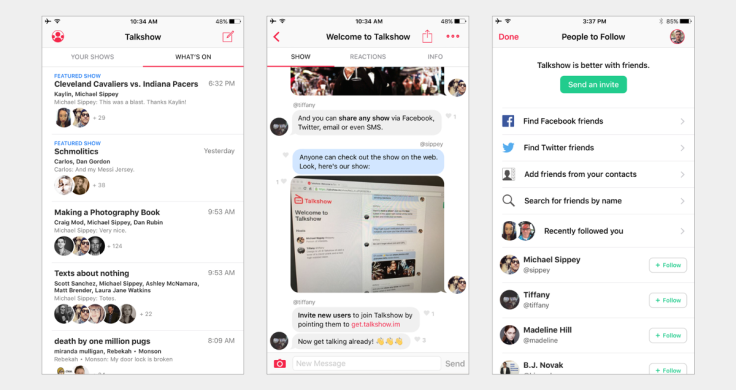 "I wanted to create Talkshow to give people a platform to share these conversations in front of an audience," he added.
Once the app has been installed, users can connect to their friends via their email. The app also syncs contacts from other social networking platforms like Twitter and Facebook. How does it work? Users can "start a show" by picking out a friend to act as a co-host (who then will receive a notification of having been invited to the conversation) and choosing a title for the show, after which the show is on the road, so to speak. Users can also find live Talkshows on the app and jump in or send a request to be added as a co-host.
"It's easy to share pics and GIFs in shows and use third party keyboards to post stickers if that's your thing," writes Sippey. The app also allows users to block people from following them and viewing their shows. Users can also remove people from the co-host position in case they begin posting abusive or derogatory content.
In efforts to make it even more accessible to the public, the app has been designed to be shared on other social media platforms via a permalink, which allows users to share their shows via email, Twitter, Facebook and even SMS.
Talkshow is now available to all iOS users.