A terminally-ill mother has made a final appeal for information about the whereabouts of her only son, who disappeared in 2012 and is believed to have been murdered. Mary Lucas, 53, who is dying of liver cancer, desperately wants to know what happened to her son Kyle Vaughan from Newbridge, Caerphilly before she dies so she can give him a funeral.
Kyle's silver Peugeot 306 was found abandoned on the A467 between Crosskeys and Risca on 30 December 2012. Although it had been in a collision, police don't know if Kyle was driving and believe he should have been able to walk away. However, he has not been seen or heard from since. On the night he vanished it is thought Kyle - who would now be 24 - was wearing a dark coloured beanie hat, dark coloured t-shirt, three-quarter length denim shorts, white trainers and a gold chain.
The investigation into Kyle's disappearance soon became a murder enquiry and police have arrested a total of eight people between the ages of 15 and 62, but all were released without charge. Kyle's mum says she accepts he is dead and only wishes to arrange his funeral before she herself dies.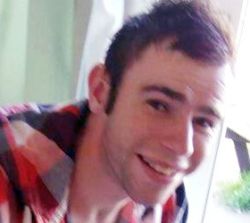 "I know he's dead," said Mrs Lucas, a former hospital worker. "Somebody has done something to him. I would just like them to come forward and say. Put yourself in my shoes - what would they feel like if they were going to die and their son or daughter was dead and they didn't know where they were?"
Police have studied hundreds of hours of CCTV, collected 390 statements, and analysed 1,800 pieces of evidence plus mobile phone data. However, three years after Kyle disappeared, they still don't have all the evidence they need to give Mrs Lucas the information she needs.
Gwent Police Det Ch Insp Bill Davies said: "I would ask - and implore - anyone with information to stop, think about the current situation, and then pick up the phone. Confidentiality can be agreed, totally agreed. I think there may be a group of individuals with direct knowledge of what happened."
Anyone with relevant information is being asked to call CrimeStoppers on 0800 555111 - before it's too late. "The doctors have said they don't know how long I have left," said Mrs Lucas. "It could be just weeks. If I'm lucky it might be months. I should be able to properly say goodbye to him - to give him a funeral. The thought of not ever finding out is too cruel to contemplate."