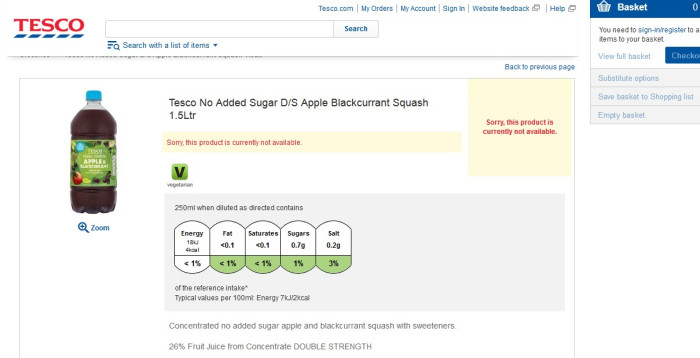 Supermarket giant Tesco has recalled its own-brand blackcurrant and apple squash after admitting it had been accidentally tainted with Dimethyl Disulphide, which has a garlicky, unpleasant taste.
The product - "No Added Sugar Double Concentrate Apple and Blackcurrant" - has been withdrawn from sale. However customers are angry the recall isn't advertised on the company's recall page and say it has made their children ill.
On the "Playpennies" website one parent wrote: " I bought 2 bottles of this squash over a week to a fortnight ago we opened one and it smelt absolutely disgusting I then checked the second bottle and that smell just as bad the only away to describe the smell was it smelt like it had been mixed with used toilet water need less to say they were both pour (sic) down the sink."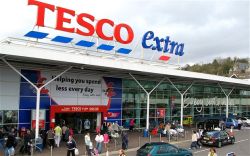 Another mum wrote: "I had this the other day, the smell was horrendous but drank it anyway as I thought they just changed it. Since then both my daughter and partner have had bad bellies. A bit worried now as nobody knows what's wrong with them."
A spokesperson for Tesco admitted the Dimethyl Disulphide (DMDS) was added to the cordial in error. "It is an approved additive and poses no food safety risk. However, it does have a strong odour, similar to garlic which customers are likely to find unpleasant."
However Tesco also faced accusations they had tried to keep the product recall quiet.
Another parent posted: " Terrible response from Tesco - they must know hundreds (possibly thousands) of children have been possibly affected yet they are doing their best to keep this quiet and hidden. Nothing on their product recall page (except a steam iron) and they are deleting comments about the recall from their facebook page."
Tesco insist the product is no longer available to purchase online. "We have withdrawn the product from sale," said the spokesperson.
"Only products bought since the New Year may be affected, they will have a best before date of October 2015. Any customers can return this product, open or unopened, to any Tesco store."
The unfortunate episode comes as Tesco announces 43 stores are to close nationwide with the loss of 2,000 jobs. Its Tesco head office will also close with the main HQ moving to Welwyn Garden City. Shares in the supermarket giant fell by 43 per cent last year.