Justin Timberlake has been widely criticised online after posting a supportive image ahead of the 2018 Golden Globes with actress and wife, Jessica Biel.
Timberlake donned a 'Time's Up' badge in apparent solidarity with sexual assault victims in Hollywood. The caption read, "Here we come!! And DAMN, my wife is hot! #TIMESUP #whywewearblack".
It did not take long for people to highlight the hypocrisy however.
One Twitter used pointed out that Timberlake stars in Woody Allen's Wonder Wheel alongside Kate Winslet and previously described how he was desperate to work with the director but was intimidated during their first project.
In addition, his vengeful ballad Cry Me A River was famously deemed a response to the end of his relationship with Britney Spears. In it, a man is scorned by his cheating girlfriend.
As for his relationship with Janet Jackson, in 2004 the pair made entertainment history when they performed the Super Bowl halftime show and Jackson's nipple was exposed for a few seconds. A wardrobe malfunction was branded indecent broadcasting and led to worldwide ridicule. It is commonly believed that Jackson's career was tarnished following the incident while Timberlake's was left relatively untouched.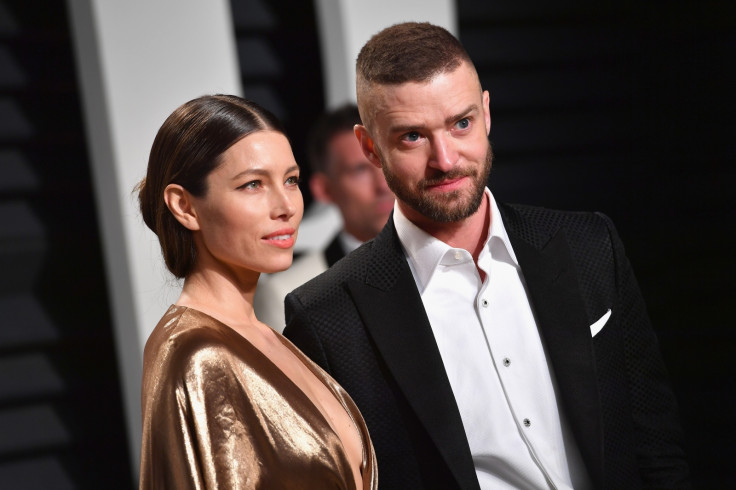 A person tweeted, "[By the way], nice and all that Justin Timberlake and Jessica Biel donated $25,000 to #timesup. But, @jtimberlake, wouldn't it have been more appropriate to donate your entire Wonder Wheel salary as contrition for working with noted sexual abuser and misogynist Woody Allen?"
Another added, "Justin Timberlake still hasn't apologized to the one Black woman by the name of Janet Jackson, that he left to the wolves to be blacklisted by the music industry and NFL yet he is there at the #GoldebGlobes to support #TimesUp and the #MeToo movement."
In addition to the 'Time's Up' pin, he and Biel wore black as suggested by a number of Hollywood actresses to stand in solidarity with victims of sexual assault and harassment.