The ex-leader of the English Defence League (EDL) has escaped a ban from attending England's Euro 2016 matches after police arrived at his home when he was already in France.
Stephen Yaxley-Lennon, whose alias Tommy Robinson is taken from an infamous member of Luton Town's MIG football hooligan firm, was to be served a football banning order by Bedfordshire Police amidst concerns about repeats of violence seen in Marseille.
But the 33-year-old had already left the country when officers turned up at his house near Luton. He was pictured days later in France holding an England flag with the words "F**k Isis" and wearing a shirt showing a cartoon of an England fan urinating on the Black Banner flag adopted by Islamic State (Daesh).
Robinson, who now leads anti-Islam group Pegida UK, was convicted of football hooliganism in 2011 after becoming involved in a brawl between supporters of his home town of Luton and Newport County fans. He was handed a three-year football banning order.
He tweeted on 13 June [sic]: "So [Bedfordshire Police] have again today targeted my families home. They arrived in front of my wife & kids to give me a football banning order."
Describing it as "state persecution" for his anti-Islam campaigning, he added: "I have committed no crime, since I come of my 3 yr ban I have only taken my children to football. Their only problem is I'm already in France."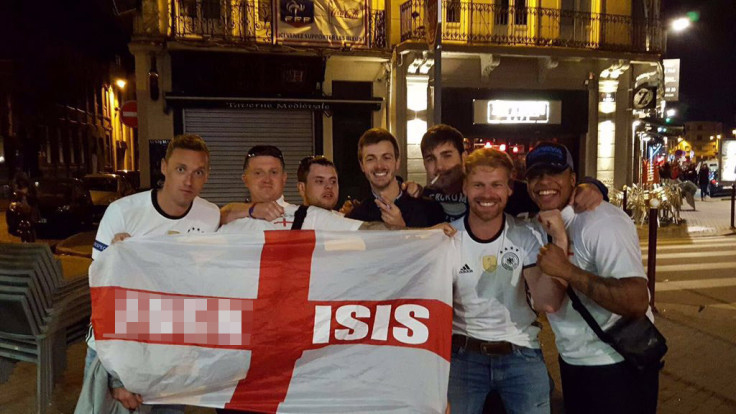 The ban was requested by the UK Policing Football Unit as French police continued to deal with the aftermath of three days of violence between Russia and England fans in Marseille.
Most of the clashes, which left two England fans in comas, were blamed by French police on about 150 "well trained" Russian Ultras, some of whom came equipped with martial arts gloves, makeshift weapons and mouth guards.
Days later there was further violence in Lille, where tens of thousands of England, Wales, Russia and Slovakia fans were staying to watch their respective teams play the tournament's group matches. It led to dozens of arrests and 16 people taken to hospital.
---
'Russia, where are you?': A 50-strong England mob trail the Ultras in Lille on the hunt for revenge
---
Bedfordshire Police said of Robinson's banning order: "The UK Policing Football Unit requested our support in issuing a football banning order to a man living in Luton. Officers from Bedfordshire Police attended the man's address to issue the order, however, they were informed that the man had already travelled to France."
National Police Chiefs' Council Lead for Football Policing, Assistant Chief Constable Mark Roberts said: "The operation to prevent troublemakers from travelling to France has been highly successful with 99% of those with football banning orders handing in their passports before the start of the tournament.
Regular clashes with anti-Fascists
"Since the tournament started we have stopped 16 people subject to banning orders from travelling, arrested 15 people and following intelligence we've imposed an additional seven football banning orders.
"There is no excuse for violence, disorder or anti-social behaviour at football matches – troublemakers will be dealt with by French police in line with their laws and can expect a banning order on return to the UK."
Robinson left the EDL in 2013 saying he wanted to distance himself from "far-right extremism" and the group's "mixing of alcohol and aggression". The right-wing movement – which campaigned against what it considered to be the spread of Islam and sharia in the country – was regularly involved in clashes with anti-fascist activists.
In December, Robinson announced he would help lead a new political campaign group – the UK chapter of Pegida, another right-wing organisation which campaigns against immigration and Islam.