Having gorged on rodent-shaped confectionery and scraped that one forgotten Easter egg from behind the bed, it's time to relax and check out this week's best smartphone deals, brought you by Hot UK Deals in partnership with IBTimes UK.
Here are the top UK smartphone deals as of 2 April 2015: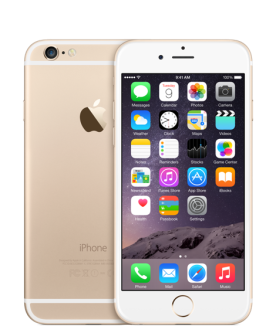 iPhone 6 16GB for £643.76 total (1,000 minutes, 2GB data, unlimited texts each month)
If you don't mind casting your lot with EE for a 24-month contract, then this is a decent deal on the 16GB version of Apple's latest flagship iPhone 6. Each month you get 1,000 minutes, 2GB data, and unlimited texts. There's an initial £100 outlay, but using the code '4GVODA20 ' shaves £20 off to reach the £643.76 total cost over 24-months.
IBTimes' David Gilbert said the "iPhone 6 is incredibly thin and light, has flawless build quality, superb battery life, and a class-leading camera". I tend to take his word on these things.
Samsung Galaxy S6 32GB (SIM free) pre-order for £549.98
If you're willing to go down the grey-market route you can pick up one of the better pre-order prices for the soon-to-be-launched Samsung Galaxy S6 at £549.98. There is also an accessory pack included, claimed to worth £100: Keyring Emergency Charger; Car Charger; Leather Case; TPU Case; Screen Protectors; and International Fast Wall Charger.
Grey market means it's not officially imported into the UK by Samsung, and therefore Samsung UK won't handle warranty claims. Mobicity offers their own 12-month warranty though.
BlackBerry Leap pre-order for £199
If you're willing to take the 'leap' on BlackBerry's latest attempt to regain some former glory, then you can pre-order their upcoming smartphone at the BlackBerry Shop for £199.
A full touchscreen phone with a slide-out physical keyboard, BlackBerry is clearly trying to court its wayward fans of a bygone era, while keeping one eye on the modern smartphone game. The Leap features a 5in HD touch screen, 1.5GHz Snapdragon S4 Plus dual-core processor, 2GB RAM, and BlackBerry OS version, 10.3.1.
Sony Xperia Z1 Compact for £179.99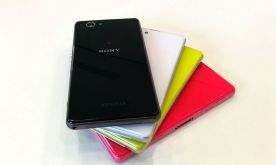 Having come down from its over-reaching £450 launch (but still carrying a 'standard' £330 price), the Xperia Z1 Compact is an excellent choice if you are looking for something powerful that eschews the current big screen trend (it's a 4.3-incher).
You can pick it up for £179.99 at Virgin, but the phone will be operator-locked (although this should mean it will work with EE, Orange, and T-Mobile SIM cards due to Virgin's virtual network setup). It comes with £10 top-up baked in, and will be delivered for fee.
IBTimes' David Gilbert said: "The Xperia Z1 Compact lives up to Sony's claims of putting the full feature set and performance of its flagship smartphone in a smaller package." He added that it's a "supremely well-built phone with premium materials ... a great camera, good screen and powerful processor".
Nokia Lumia 735 (SIM-free) for £149
If you're considering something in the mid-range, then the robust Nokia Lumia 735 is a decent option. Typically carrying an RRP of £189, ordering directly from the Microsoft store will beat most deals around at the moment, and gets you free delivery.
Samsung Galaxy S4 Zoom for £150
Typically going for close on £400, Very is flogging the Samsung Galaxy S4 Zoom for £159. It can also be found on Amazon for £150.25.
IBtimes' Alistair Charlton recommended it for snap-happy users who can't resist capturing in high quality every moment of their day-to-day lives.