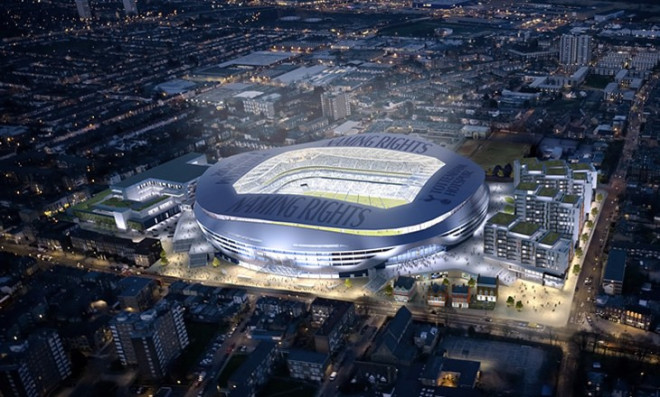 Tottenham Hotspur will be ready to quit White Hart Lane for a new stadium in 2017, according to senior figures at the club.
The construction project for a new 58,000 capacity venue, next door to the club's current home, is expected to get underway later this year when a building firm is hired.
Moving out of the ground which has been the club's home for 132 years is vital because of looming financial fair play rules and also to compete with top-four Premier League clubs, said chairman Daniel Levy.
He said the project to build a new stadium on Tottenham High Road is "feasible", having already delivered 447 jobs so far, and will aid the local economy in Haringey.
Assisting Spurs in the project is the financial advice giant N M Rothschild.
In a written statement, Levy said: "We cannot stress strongly enough how critical the new stadium is over the long-term to these raised expectations.
"We have the smallest capacity stadium of any club in the top 20 clubs in Europe, let alone the current top four Premier League clubs, and given we now operate within UEFA Financial Fair Play rules, an increased capacity stadium and associated revenues is fundamental to supporting the future."
Tottenham Hotspur has endured troubles during efforts to relocate from White Hart Lane. The club lost out to West Ham in the battle for the Olympic Stadium, and three people hired by the club were accused of spying on Olympics officials during the bid process.
Levy revealed plans for the new stadium on the same day he ruled out overhauling the playing squad following an indifferent campaign in the Premier League by the club's own high expectations.
"The new stadium is a landmark project, of importance not just for our club, but to the regeneration of an area which has been our home for more than 132 years and to London as a whole. It will be a key regenerative component of the local economy and a significant tourist attraction in its own right.
"To anyone visiting Tottenham today, our commitment to delivering the new stadium project and associated regeneration is clear for all to see."
Some parts of the regeneration project are already underway, with a technical college due to open soon, while nine acres of land has been readied for building work to begin.