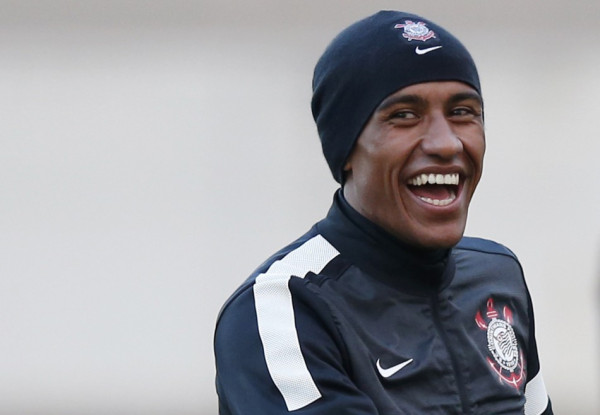 Tottenham may have broken their transfer record in purchasing Paulnho but the club have gotten what is likely to become a bargain if the Brazilian midfielder lives up to his reputation in his home country and delivers comanding performances like the ones that helped Brazil win the Confederations Cup.
The Brazilian sealed his £17m move to Spurs over the weekend and in the process became the club's record signing, overtaking the £16.75m paid for Luka Modric in 2008. The Croatian went on to star at White Hart Lane, delivering a string of memorable performances, but will Paulinho have the same impact?
First of all it's worth taking note of how the fee is broken down. There is an upfront payment of £15m, with an extra £2m in add-ons, and was exactly the right amount to break his release clause and give his Brazilian side no say in what the star decided over his future. Of the transfer fee, 50% goes to the Corinthians and 50% to his youth club, which still owned half the rights of the player.
In the current market it is certainly not an outrageous fee to pay for an established international, especially one who has already tasted success for both club and country.
Paulinho's decision to make the move to the Premier League is a huge step up in his career, but one that has been brought about after years of hard work and tough breaks.
The central midfielder plied his trade in his home town of Sao Paulo, before moving to Lithuania in 2006 and Poland in 2007 to show he was capable of taking the step up to European football.
But the moves didn't pan out and Paulinho has admitted that when he returned to former youth side Pao de Acucar in 2008 - a small fourth division club with a stadium holding around 10,000 people who only had a history of around 23 years at the time - he considered leaving football all together.
But the decision to stay and fight proved to be the right one, and after a quick stint in second tier side Bragantino, he sealed a move to Brazilian giants Corinthians in 2010. In particular, his performance for the side against Chelsea in the 2012 Club World Cup put him on the map for English football fans as the 24 year old helped create the winning goal by Guerrero.
The midfielder has already had plenty of success with Corinthians and he will be determiend to help his new club compete for major honours. Paulinho already has a Brazilian top tier title to his name, a Copa Libertadores winners medal and most recently Confederations Cup, as well as the Club World Cup.
His ability and power in the middle of the park has brought attention from the likes of Manchester United and Arsenal, but the star himself confirmed that Inter Milan have been the club to come in for his signature on a number of occasions. This would no doubt drive up his price, and with the Brazil World Cup coming up next year, selection will become a priority for Paulinho as he demands playing time with his future club.
For Tottenham, the loss of Scott Parker is looking ever more likely with Paulinho's arrival, and having a midfielder who can deliver on a more consistent level could be the difference in the north London side's charge for Champions League qualification.
With the Spurs strikers struggling last season, and much of the pressure for goals landing on the shoulder of Gareth Bale, there is a need for a new supply line. This has been touted as Paulinho's main strength as he has the ability to drive the ball forward and find that vital pass, as well as break up play and start counter attacks.
Sao Paulo journalist Jose Eduardo de Carvalho went so far as to argue that Paulinho is capable of playing for a club much higher up the table than Tottenham, and questioned why he chose to join a side that wouldn't give him the visibility of Champions League football.
"Not only I but many people think Paulinho is worth much more than Tottenham," he wrote in Brazilian newspaper Estadao. "I do not know if it's a bridge move, or was ill-advised, but Paulinho would not have made ​​money only because previous opportunities had appeared and involving big sums.
"For a player that would take place in any major European team, it is difficult to understand why he went to Spurs, who are not in the Champions League."
In Tottenham's case, the issue of attempting to find players who are willing to go without Champions League football for at least a season means when they want a top class squad capable of competing in Europe, which is a top goal for Daniel Levy, they may need to pay over the odds for those players to come to White Hart Lane.
And particularly with the World Cup just a year away now - and players looking to get maximum game time to prove they're worthy of a place in their respective national sides - breaking the transfer record at Tottenham this summer was inevitable, particularly as Arsenal consider spending bigger than they have in recent seasons to avoid the top four scrap they faced at the end of last season.
Paulinho's hard work to get to where he is, and performances for both club and country in Brazil have placed extra expectation on him, as has his £17m transfer fee. But while he might be a big purchase for Tottenham, he could prove a bargain for the club over the course of the season if his powerhouse performances lead the club into the top four and a return to the Champions League.