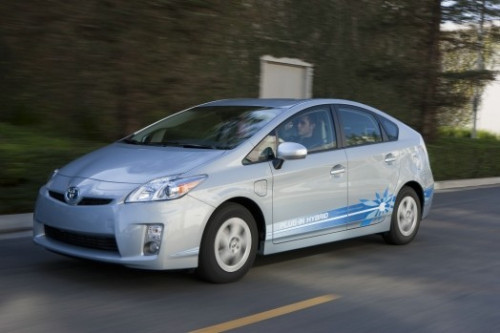 Japanese automaker Toyota is recalling 1.9 million of its Prius hybrid cars worldwide, including about 31,000 cars in the UK.
The company said the recall is due to a problem with software used to control a power converter. The faulty software might cause the vehicle to slow down unexpectedly and stop eventually, according to Toyota.
"The setting of the software could cause higher thermal stress in certain transistors within the booster converter, and these transistors could deform or become damaged as a result," Toyota said in a statement.
"This will result in various warning lights being illuminated, and will probably cause the vehicle to enter a failsafe mode. In limited cases, the hybrid system might shut down and the vehicle will stop, perhaps while being driven."
Toyota was aware of more than 400 cases of the problem, including 300 in Japan and 90 in North America, according to a spokeswoman cited by Associated Press. However, the problem has caused no accidents so far.
The world's top-selling automaker did not disclose the costs associated with the recall. The company added that its other hybrid vehicles will not be affected by the issue as they use different systems.
Increasing Recalls
The development is another blow to the reputation of the Japanese auto giant, which in recent years suffered from a large number of vehicle issues and recalls.
It is the third recall for the five-year-old Prius, one of the company's best-selling models due to its fuel-saving hybrid technology. In June, the model suffered from problems related to the brake accumulator.
As of 2013, global deliveries of the Prius vehicles exceeded 3.6 million units since first going on sale in 1997.
In late 2012, the company recalled more than 7.4 million vehicles due to a power-window glitch, the biggest single recall in the industry since Ford Motor's recall of about 8 million vehicles in 1996.
The company recalled more than 10 million vehicles in 2009 and 2010 due to problems related to unintended acceleration.