'True American spirit': Texas mosque arson sees $1m raised – Jews, Christians and Muslims pray side-by-side
Blaze started after Trump signed executive order banning travellers from seven Muslim-majority countries.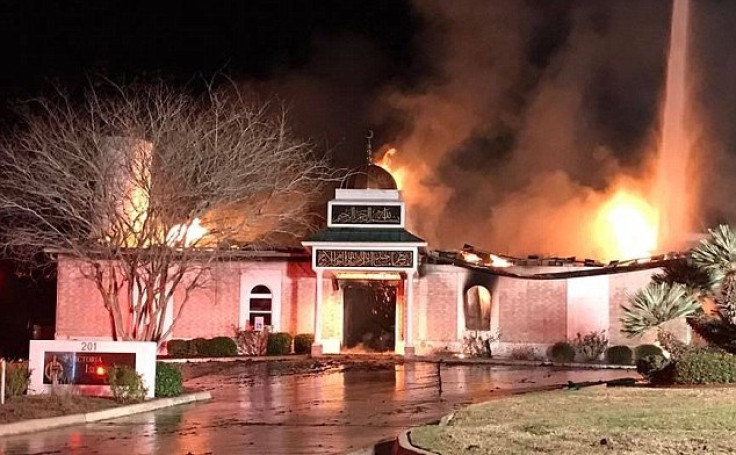 In the small Texas city of Victoria, the suspicious burning down of the community's only mosque could have led its Muslim worshippers to fear they were no longer welcome.
But instead the congregation said they witnessed another side to humanity, one they branded the "true American spirit".
The fire at the Victoria Islamic Center early Saturday morning (29 January) has seen them overwhelmed with support from their local neighbours and fellow citizens across the United States.
The town's displaced Muslim congregation now pray side-by-side with Jews and Christians after being welcomed in by the city's church and synagogue leaders.
Within days, tens of thousands of people from across the US and abroad had also raised an astonishing $1m (£790,000, €930,000) to help rebuild the mosque.
And the grieving 130 Muslims who saw their place of worship reduced to ashes have been inundated with all manner of offers from Victoria's close-knit residents to help them get back on their feet.
Leaders of the mosque declared "our faith in humanity has been rekindled again".
"Our hearts are filled with gratitude for the tremendous support we've received," said Omar Rachid, a congregation member who set up the mosque's GoFundMe page.
"The outpouring of love, kind words, hugs, helping hands and the financial contributions are examples of the true American Spirit and Humanity at its best with donations coming in from all over the world."
Muslim community leaders in the US have expressed fears of growing Islamaphobia in the country amid concerns about white nationalist rhetoric against the religion.
The fire broke out just hours after US President Donald Trump signed an executive order last Friday that banned travellers and refugees from seven Muslim-majority countries from entering the country for several months on national security grounds.
While the blaze has been categorised as "suspicious", authorities have no evidence linking the fire to Trump's order. An investigation by the Victoria Fire Marshal's Office is still ongoing, with officials looking into whether a burglary at the mosque on 22 January could be significant.
In July 2013, the mosque was also vandalised when a juvenile painted "H8" – shorthand for "hate" – on its exterior.
Flames were first spotted at 2am on Saturday, with firefighters taking about four hours to put out the blaze. The building was completely gutted, with only the exterior walls left standing.
The mosque ruins, which will be demolished and a new one erected in its place, was built in 2000 largely with funds from the congregation. Its leaders say because of a miscommunication and a lack of funds, the mosque was never insured.
A City of Victoria spokesman said it could be months before the cause of the fire is determined.
About 400 community members attended a prayer rally Sunday morning outside the destroyed mosque, led by various local religious leaders.
Gary Branfman, a member of Victoria's Temple B'nai Israel synagogue, said he hoped the tragedy would empower Victoria to come together.
"When our peaceful norm is interrupted like this, I think it unites the community," he said.
Abe Ajrami, a mosque member, said: "God always has a plan. Out of tragedies, sometimes good things happen."
© Copyright IBTimes 2023. All rights reserved.