US President Donald Trump has offered his condolences to the victims of the deadly tornadoes that hit the southeastern states of Georgia and Mississippi in the last two days, killing at least 18 people. The governor of Georgia declared a state of emergency in seven counties after at least 14 deaths were reported on Sunday (22 January).
CNN quoted the Georgia Emergency Management Agency as saying that seven people were dead in Georgia's Cook County, two each in Berrien and Brooks counties, and three in Dougherty County. On Saturday (21 January), at least four people were killed in Mississippi after heavy winds and gusts ripped through the state.
"These storms have devastated communities and homes in South Central Georgia, and the state is making all resources available to the impacted areas," Georgia Governor Nathan Deal said in a statement on Sunday, noting that the state will seek federal assistance.
"These storms have resulted in loss of life, numerous injuries and extensive property damage, and our thoughts and prayers are with Georgians suffering from the storm's impact. ... I urge all Georgians to exercise caution and vigilance in order to remain safe and prevent further loss of life or injuries," Deal added.
Meanwhile, Trump said he has already talked to Deal about the situation in Georgia and would soon talk to Florida Governor Rick Scott. "We'll be helping out the state of Georgia and we'll be speaking to [Florida] Gov. Scott right after this," Trump said from the White House East Room, the New York Post reported.
"Alabama is a special place. Florida is a special place. But they got hit hard. They all got hit hard. But it looks like Georgia has lost at least 11 people as of this moment — a lot of people. So on behalf of all of us, Gov Deal, condolences," Trump said.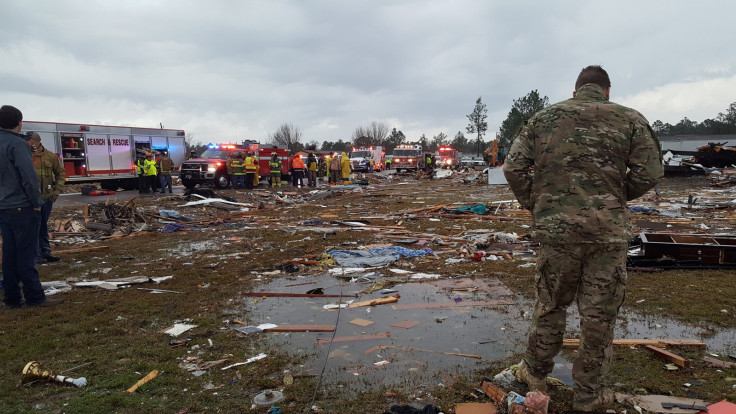 The National Weather Service issued a rare "high risk" alert, warning people in southern Georgia and northern Florida of severe thunderstorms, including strong tornadoes on Sunday afternoon and evening. This was reportedly the first high-risk alert issued since June 2014.
The tornado warning included the cities of Atlanta, Georgia, and Tallahassee and Panama City in Florida, which reportedly remained in effect until Sunday night, CNN wrote.
Earlier on Saturday, Mississippi Governor Phil Bryant declared a state of emergency after storms and heavy winds swept the country, killing four people and injuring more than 50 in Forrest County, according to the Mississippi Emergency Management Agency. The cities of Hattiesburg and Petal were reportedly the worst hit. The storms also caused heavy damage to property.
In Alabama, 15 counties reported heavy destruction due to the storm and severe weather conditions. Four people were injured in Choctaw County, Greg Robinson of the Alabama Emergency Management Agency said.