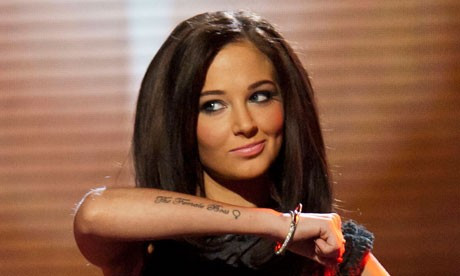 Simon Cowell has confirmed that Tulisa Contostavlos will remain an X Factor judge in spite of her recent sex video scandal.
The 52-year-old media mogul spoke out in support of the 23-year-old singer who made headlines this week after a video of her performing a sexual act on a former boyfriend surfaced online.
Despite claims that the star would be getting her marching orders from the family show, Cowell declared that her talent show job was safe.
He instead lambasted her "scumbag" of an ex, Justin MC Ultra Edwards, who is accused of selling the tape of the "private" moment.
Cowell said: "What a scumbag to sell something that was private. It's disgusting. He is a thief, he is repulsive.
"You are allowed to do this stuff in your bedroom, but you don't want the tape to come out."
Cowell managed to make light of the situation by joking that even though he hasn't watched the footage he intended to "watch it tonight."
Contostavlos, who was forced to make a heartbreaking admission after initially denying taking part in the video, appeared to be still reeling from the public embarrassment.
In a video posted on YouTube, she apologised to fans for any offence and said: "As you can imagine, I am devastated, heartbroken. I have been in bits for the last few days."
The video, which was made before her X Factor makeover, first appeared on a celebrity website Pappzd and caused a backlash from shocked fans.
Meanwhile, reports suggested that Tulisa's ex was set to unveil more intimate footage of the couple during their 18-month relationship in a desperate bid to help boost his struggling music career.
A source told the Daily Star: "People like Justin think Tulisa has sold out by going on X Factor and becoming a glamour girl. If he tells his story she will not come off well. She has a lot of skeletons in the closet."