Authorities in Turkey have identified the man responsible for the Istanbul nightclub attack on New Year's Day as they made five new arrests in the city of Izmir.
"The identity of the person carrying out the attack in Ortakoy has been determined," said foreign minister Mevlut Cavusoglu, speaking to the Turkish Anadolu news agency on Wednesday (4 January). The minister has not named the suspect or given any further details as to his identity, but authorities believe he comes from a Central Asian background.
While the main suspect remains at large, the police have detained 27 people in the city of Izmir as part of their investigation into the shooting, the Dogan (DHA) news agency reported on Wednesday. Those arrested belonged to three families, and included women and children.
The arrests on Wednesday follow 14 others made in Istanbul and across Turkey in the days following the attack. Turkish police had suspected Islamic State (Isis/Daesh) militants to be planning an attack on New Year's Eve and had made eight arrests on 31 December in the capital Ankara, seizing several documents at the locations of the arrests.
Some 39 people were killed in the attack on the Reina nightclub and another 65 were injured. The gunman fired at least 120 bullets inside the club with an automatic rifle, reloading his weapon several times and hitting the wounded as they lay on the ground, survivors reported.
According to security experts quoted in Turkish media, the brutality of the massacre suggests the man has had professional military training and may have been involved in combat areas, possibly Syria.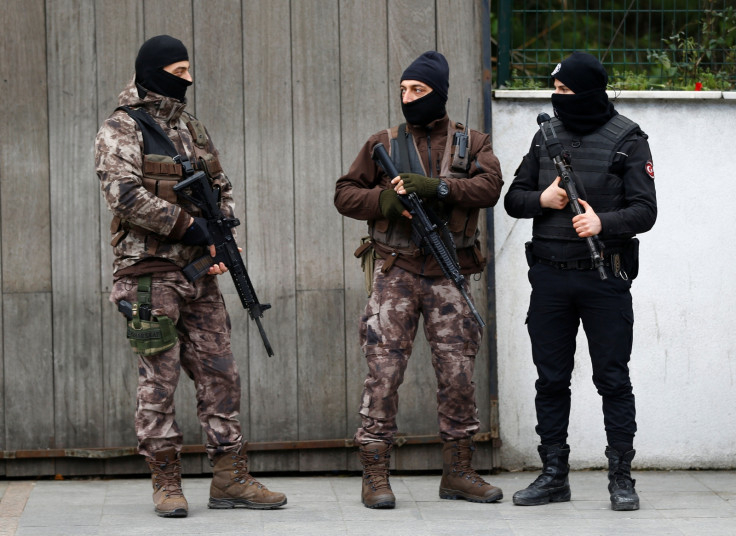 The IS has claimed responsibility for the mass attack, but it remains unclear whether the gunman was a member of the terrorist organisation or acted as a lone wolf. In December, IS released a video showing the killing of two Turkish soldiers captured in northern Syria and urged its supporters to "conquer" Istanbul, although Turkish authorities have disputed the authenticity of the video. IS leader Abu Bakr al-Baghdadi said his followers must "seek help in Allah and attack Turkey, turn their security into panic, and their calm into chaos".