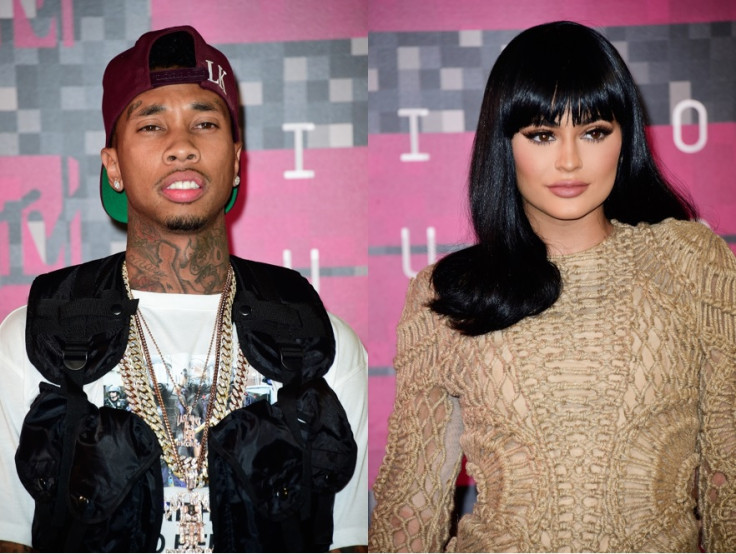 It was intended to be a kind gesture but the luxury Ferrari 458 Italia which Tyga bought for his girlfriend Kylie Jenner is causing him problems. The rapper took to Instagram to shut down speculation that he is renting and did not purchase the sports car but it prompted model Amber Rose to weigh in on the controversy.
The Rack City rapper surprised Jenner with the expensive sports car for her 18th birthday in August but rumours began circulating that the vehicle is on lease instead of the hip hop star buying it outright for its $260,000 (£170,000) price tag. In an Instagram post, Tyga appeared to address the claims by writing: "When the hating don't work they start telling lies.#WhereYoFerarriTho ?"
According to TMZ, the message was directed at Tyga's former fiancee Blac Chyna, which is what caused her best friend Rose to get involved. The model is said to have replied to Tyga's Instagram post: "She don't need a Ferrari she can Drive mine #BFFGoals." The 25-year-old rapper reportedly replied: "We drive our own whips peanut head #GoldPhantoms #LastKings."
It is not the first time Rose has jumped to Chyna's defence as she got herself embroiled in a Twitter spat with Jenner's older half-sister Khloe Kardashian when rumours first emerged of Tyga's romance with the teen. Addressing their row, Rose told Perez Hilton in July: "I feel like everything was extremely misunderstood. Listen, I met Kylie before, she was actually a really sweet girl, I was very surprised as to how nice she was to me. And I wasn't coming at Kylie. I was coming at Tyga on behalf of my best friend, Blac Chyna."
Tyga and Jenner appear to have finally confirmed their relationship in the steamy music video for his new track Stimulated, which features a cameo appearance from the reality star. In the visuals, the couple kiss and cuddle while Tyga raps: "They say she young I should have waited, she a big girl, dog, when she stimulated."