Tyler Perry Recalls 'Beautiful Moment' When Meghan Markle, Prince Harry Lived At His LA Home
The director offered his Beverly Hills mansion and security detail to the Duke and Duchess of Sussex after they left Canada in 2020.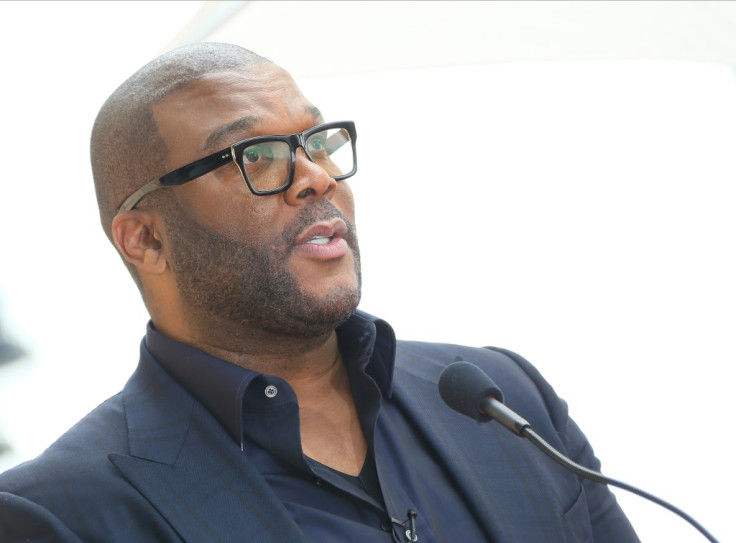 Tyler Perry recalled the beginning stages of his friendship with Meghan Markle and Prince Harry, which led to them living in his Los Angeles mansion in 2020. He opened up about it in an interview on Kelly Rippa's "Let's Talk Off Camera" podcast on Wednesday, November 15.
The filmmaker talked about his friendship with the Duke and Duchess of Sussex and their family in the podcast episode titled "Tyler Perry: Dreaming Bigger & Staying In The Good". He shared that he sent the couple a note in which he offered them his help and the duchess eventually reached out to him in 2020.
"The note just said, 'If you ever need anything, I'm here,' and she called months later and just talked to me like I was a therapist you talk to and we just had a great conversation," he shared.
Perry added: "It's very important for people in this business to have a safe place to land, to have a place where they can trust and talk freely and get advice that's not gonna be biased or from somebody who wants something from them."
That call came after Prince Harry and Meghan Markle left their royal duties and the U.K. and lived in Canada. They had planned to make the country their forever home. But they had to flee the country because the paparazzi were harassing them and by this time, King Charles III had already stripped them of their security detail.
Before flights closed because of the COVID-19 pandemic, the Duchess of Sussex called Perry and asked for his help despite not having met in person. He flew them on a private plane to his $18 million Beverly Hills mansion and even offered them his security detail as protection.
They lived most of 2020 in his home in bliss because the paparazzi had no knowledge of their whereabouts. The "Madea" director said: "They hid out at my house for a long time. It was so great".
Perry added: "Every day. Every day that they were there, I looked to see if anything's happening online. Nothing. They don't even know, so weeks and weeks they were there. They were so happy. It was such a beautiful moment."
The paparazzi eventually learned of their location and the Sussexes moved out of Perry's home and relocated to Montecito, in Santa Barbara, California, where they now live with their children Prince Archie and Princess Lilibet. When they left Canada they only had their son. They welcomed their daughter on June 4, 2021.
Perry shared that he calls Princess Lilibet, who is his goddaughter, "Little Lili" adding: "Oh, she's so beautiful. She's just so beautiful." He said Prince Harry and Meghan Markle "make beautiful babies" and called Prince Archie also "beautiful". The director also shared that he only opened up about his friendship with the Sussexes because they publicly spoke about it first.
© Copyright IBTimes 2023. All rights reserved.