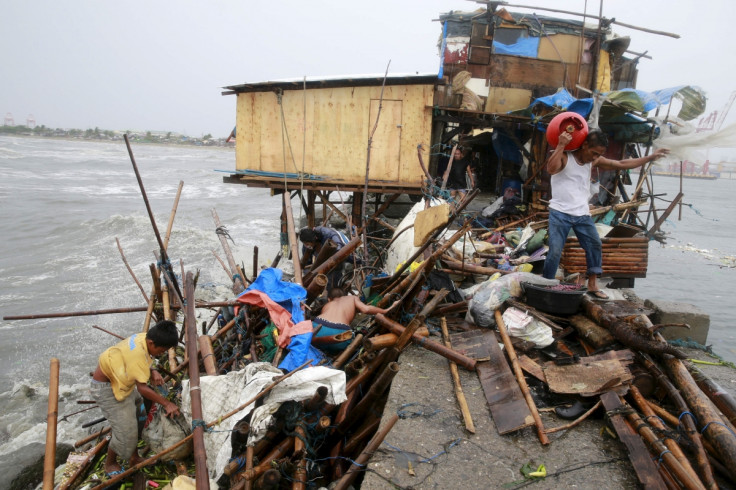 The powerful Typhoon Koppu, locally known as Lando, has battered the Philippines with at least one person dead, several missing and thousands forced to evacuate their homes.The slow-moving storm is set to linger for at least three more days bringing incessant rain and strong winds.
Koppu's eye landed in Luzon Island, the country's largest and most populous, accompanied by ferocious winds flattening homes and knocking off power supply. With thousands of people having already been evacuated, forecasters have warned the massive storm could whip up coastal surges as high as 12ft. The storm packed sustained winds of 240kmph when it hit the town of Casiguran in Luzon.
"Initially, we are getting [reports that] many houses were destroyed, power lines toppled and trees blocking major roads. It has slowed almost to a crawl. We were hoping it would speed up and spare us sooner," said Alexandra Pama, chief of the Philippines's National Disaster Risk Reduction Council. "We would like to stress that Lando is not like the usual typhoons (that take only) a day to cross (the Philippines). Based on forecasts, this will possibly last until Tuesday (20 October)."
Local reports suggest the storm has brought down power pylons and trees while flights and other modes of transport have also been affected in northern Philippines. Bus services have been suspended in mudslide-prone regions. So far, no casualties have been reported.
The state-run weather agency Philippine Atmospheric, Geophysical and Astronomical Services Administration (Pagasa) warned Koppu could still cause more devastation triggering flash floods and landslides though it has weakened.
Koppu is expected to weaken into a tropical storm on Tuesday and leave Luzon the following day. "Estimated rainfall amount is from heavy to intense within the 600-km diameter of the typhoon," Pagasa said in its warning.