US internet retail giant Amazon has set out plans for the creation of a segregated flight zone in which its delivery drones would be able to operate freely.
The zone includes a "high-speed transit" space between 200ft and 400ft (60m-120m) above ground level, where Amazon's computer-controlled drones equipped with advanced navigation systems would be able to rapidly deliver packages to customers.
This would ensure drones do not interfere with civil and military aviation activities, which occur above 500ft, the company noted.
Slower drones without sophisticated sense-and-avoid technology, such as surveying and hobby drones, will be limited to the airspace below 200ft.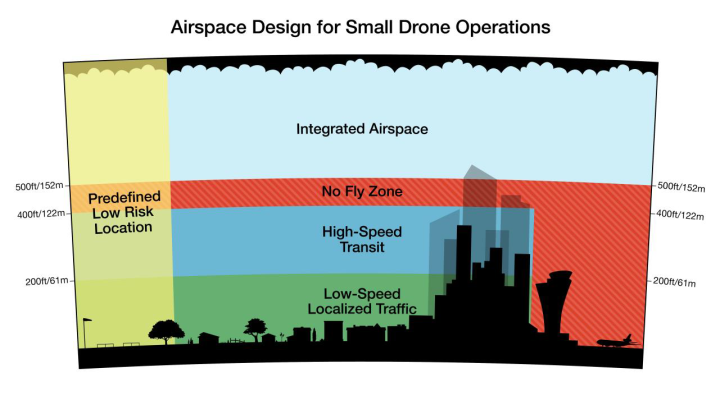 Unveiling its proposals at a Nasa convention in California, Amazon said it envisaged automated drones vastly outnumbering human-operated flights in the next 10 years.
"The way we guarantee the greatest safety is by requiring that, as the level of complexity of the airspace increases, so does the level of sophistication of the vehicle," Gur Kimchi, co-founder of Amazon's drone project, Prime Air, was quoted as saying at the convention by the Guardian newspaper.
"Under our proposal, everybody has to be collaborative – vehicles must be able to talk to each other and avoid each other as the airspace gets denser at low altitudes."
Kimchi added that Amazon's drones would be completely automated and would only require human intervention during "emergency situations, national security crises and the like".
Amazon was previously frustrated by the Federal Aviation Administration's (FAA) ban on outdoor testing of commercial drones.
In March, the FAA finally gave the green light to commence outdoor trials as long as the drones never flew out of the line of sight of their pilots.
Earlier this month, Swiss Post began testing quadcopter drones to deliver small packages, although it said commercial use of the delivery system is unlikely for another five years.
Google, UPS, DHL and Alibaba are among other companies conducting private trials of commercial drones.