Uber is trying to calm down drunken passengers by letting them play on 1990s children's toy Bop It. The theory is that passengers distracted by the noisy game are less likely to pester drivers or become confrontational.
The experiment began in some parts of the US last year and joins a range of other trials that Uber is conducting to keep passengers calm and drivers safe. Another experiment involves fitting passenger-facing mirrors, as it is claimed people who can see themselves are less likely to act inappropriately.
A letter sent to a US Uber driver in Charlotte, North Carolina – and posted on Reddit – reads: "We're interested in whether in-car activities for riders (eg handheld games) add something fun and exciting to the ride mix...the game you'll receive is a Bop It...[which] works by giving users a series of audio commands that they have to perform at an increasing pace."
The Bop It game can be played individually or by several people at once, and drivers are instructed to place the game in the rear seat pockets. They can refuse, but Uber asks to be informed if the game is not installed in the car.
"An intoxicated rider who is engaged in something interesting is less likely to be irritable and aiming aggression at the driver," Joe Sullivan, Uber's chief security officer, told the Guardian.
'I thought it was a joke'
Uber drivers posting on Reddit raised concerns about the toy, with some suggesting it could be stolen or used by drunk passengers as a weapon. One, called Monsto, said: "Dude I thought it was a joke post. I'm not putting that f****r in my back seat for drunk f****s to either steal or beat me on the head with. F**k you. No."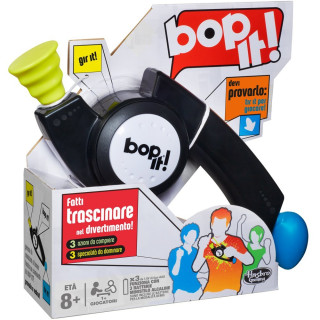 Despite Uber telling drivers it doesn't "anticipate riders abusing or misusing the game", one Reddit user claimed their Bop It toy "already disappeared the first night". Others said the toy's three phrases – 'bop it', 'twist it', 'pull it' – would annoy them, but some welcomed the idea. A user called EyeMadeAnAccount said: "If I got a ride from someone after some drinks (I drink weekend nights) and they had a Bop It in the car, I would be stoked and playing it cracking up."
Another excited user said: "I would flip my shit. I think the millennial demographic will collectively go nuts for this. I wouldn't hand it to passengers in suits and ties but on a bar run it would be a neat way to cheer people up."
An Uber spokesperson told IBTimes UK that the company has no plans to bring this trial to the UK.