Uber's new CEO Dara Khosrowshahi tells Expedia staff: 'I have to tell you I am scared'
Dara Khosrowshahi will be joining Uber on Wednesday morning.
Uber has officially confirmed Dara Khosrowshahi as the ride-hailing firm's new chief executive, marking the end of its long and tumultuous search for a new leader after founder Travis Kalanick resigned in June. The new Uber head, however, admitted in a memo sent to Expedia employees that he is "scared" about the new challenge.
"This has been one of the toughest decisions of my life," Khosrowshahi said in a letter to his staff at Expedia, Recode reports. "I've had the privilege to run Expedia for 12+ years now, and most of you who have been on this journey with me know that it has not all been easy going.
"We've had to fight through multiple technology re-platformings, supplier margin and competitive pressures, worldwide financial meltdowns, enormous integrations, building our global muscles, and a hugely competitive talent and travel marketplace. But we have put our heads down together and pushed and worked and innovated and have built a truly great company and had more than our fair share of fun along the way."
The 48-year-old Iranian-American executive also admitted: "I have to tell you that I'm scared."
"I've been here at Expedia for so long that I've forgotten what life is outside of this place," Khosrowshahi said. "But the times of greatest learning for me have been when I've been through big changes, or taken on new roles – you have to move out of your comfort zone and develop muscles that you didn't know you had."
"I always tell people to look for a role where they, as an individual, can make a difference, at a company that is making a difference," he continued. "I can look forward to Uber and know that I will make a difference, hopefully for the better."
Khosroshahi's appointment comes after months of controversies for Uber including sexual harassment and discrimination allegations, a high-profile lawsuit from Google's Waymo, a federal probe into secret Greyball tool used to deceive law enforcement, revelations of mishandling of a rape victim's medical files in India and, most recently, a federal probe over possible foreign bribery law violations.
Uber has also seen an exodus of top executives amid the scandals as well.
Dara will be joining Uber on Wednesday morning when he will meet the company's staff in an all-hands meeting at 10am PST.
"We're really fortunate to gain a leader with Dara's experience, talent and vision," Uber's board said in a memo to employees. "The board and the executive leadership team are confident that Dara is the best person to lead Uber into the future building world-class products, transforming cities, and adding value to the lives of drivers and riders around the world while continuously improving our culture and making Uber the best place to work."
Ex-Uber CEO Travis Kalanick also publicly welcomed the incoming Uber chief.
"With a deep passion for team building, Dara grew Expedia into one of the world's most successful travel and technology platforms." Kalanick said. "Casting a vote for the next chief executive of Uber was a big moment for me and I couldn't be happier to pass the torch to such an inspiring leader."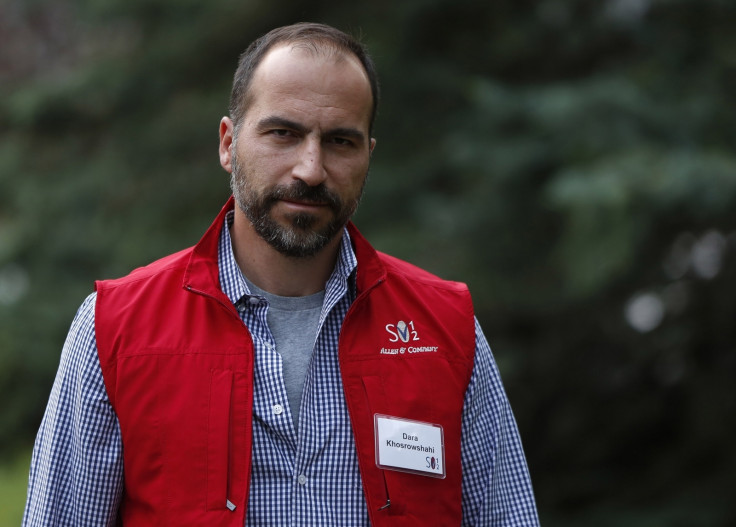 © Copyright IBTimes 2023. All rights reserved.