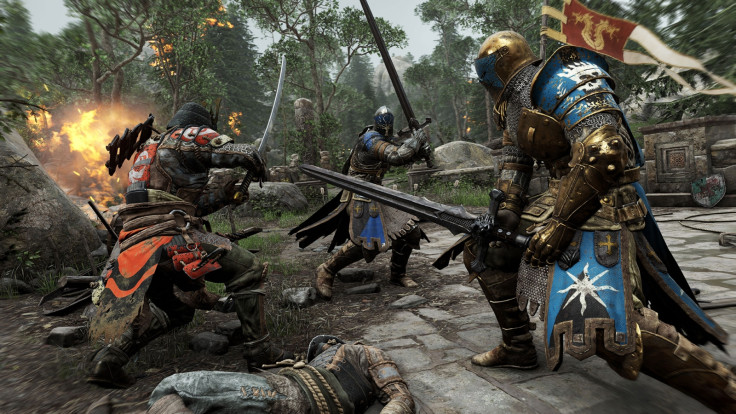 Ubisoft has announced the official minimum and recommended system requirements for the PC version of team-based action game For Honor ahead of its upcoming closed beta. The minimum specs seem to be relatively accessible requiring a Core i3-550 or Phenom II X4 955, 4GB of RAM and a GTX 660 or HD 6970. The target resolution and framerate is 720p at 30 FPS with a low setting.
Players looking to take on the upcoming medieval action game at 1080p and about 60 FPS with high settings will require an i5-2500K or FX-6350, 8GB of RAM and at least a GTX 680 or R9 280X card. It is worth noting that the recommended specs are based on keeping VSync off, which means players will probably need a more powerful PC build to support the advanced visual settings.
Ubisoft also released a list of graphic cards that will be supported at launch as well as a wide-ranging list of fully and partially supported peripheral controllers.
The medieval action game will fully support Xbox 360, Xbox One and Xbox One Elite gamepads in addition to PS4 original and pro controllers. It will also partially support any third-party Xbox-compatible controllers, PS3 controllers, the Logitech Chillstream, OUYA controller and the Steam controller.
For Honor's closed multiplayer beta will run from 26 to 29 January on PS4, Xbox One and PC where players can join the fray and play as nine of the game's 12 different heroes across Knights, Vikings or Samurai.
Participating players will also be able to try out War of the Factions that will track every match across all platforms during the closed beta and offer rewards to the top faction. All participants in the closed beta will also receive some unspecified rewards that will be available in the full game at launch.
The four-day alpha test in September last year turned out to be a massive success for Ubisoft as it was the publisher's biggest one yet.
Here are the official PC system specifications and a list of compatible controller peripherals at launch for the upcoming melee-combat game For Honor:
"For Honor is a fast-paced, competitive experience mixing skill, strategy, and team play with visceral melee combat," the game's description reads. "Enter the chaos of a raging war as a bold knight, brutal viking, or mysterious samurai, three of the greatest warrior legacies.
"The Art of Battle, For Honor's innovative control system, puts you in total control of your heroes, each with distinct skills and weapons, as you fight for land, glory and honour. As a skilled warrior on an intense, believable battleground, you annihilate all soldiers, archers, and opposing heroes who stand in your way."
For Honor is set to release on 14 February for PS4, Xbox One and PC.