UK calls for end to violence in English Cameroon amid crackdown and exodus to French zones
Activists held amid internet shutdown in English Cameroon where battle for self-determination rages on.
The UK is calling for an end to violence in English-speaking areas of Cameroon, rocked by months of protests and strikes. The Foreign and Commonwealth Office (FCO) told IBTimes UK it was closely monitoring the situation in Southwest and Northwest provinces, Cameroon's only English-speaking region, where a crackdown on protesters is intensifying.
Lawyers, teachers and students have been striking and protesting since October 2016 against perceived marginalisation and the use of French in courts and schools in the provinces.
"We call for restraint, by all involved, in the use of force, reiterate the obligation to uphold human rights standards and encourage the use of transparent legal means to address concerns," an FCO spokesperson said.
"We call for issues to be resolved through broad-based dialogue, with a range of interlocutors, and a return to normalcy in the two regions. We are engaged with the Government of Cameroon and will continue to raise this with them."
Some protests have turned violent resulting in the deaths of at least four protesters in Bamenda, capital of Northwest province, according to police sources. Dozens have been arrested, with rights groups calling on authorities to investigate the fatalities.
Some groups have also taken to the streets demanding a return to a federal state system and the breakaway of the Northwest and Southwest provinces and the restoration of 'Southern Cameroons', or the Republic of Ambazonia, a British mandate during colonisation.
The Cameroonian government, which denied allegations of excessive force by the military and police to quell protests, initially engaged with the organisers of the strikes. However, it has rejected calls for a referendum on a possible return to a federal system.
People are now calling on President Paul Biya to release activists including Felix Agbor Balla and Fontem Neba, arrested for organising so-called 'ghost town' strikes.
Fears are growing Balla and Neba – who are president and secretary-general respectively of the banned Cameroon Anglophone Civil Society Consortium (CACSC) – will be sentenced to death under the country's 2014 terrorism law. Activist Bibixy Mancho is also facing trial.
Schools and businesses have been repeatedly closed in the provinces' capitals Bamenda and Buea, due to the strikes.
The Cameroonian High Commission in London has not responded to a request for comments on the unrest.
'Internet refugees'
Authorities are facing mounting criticism over their decision to shut down the internet in the English areas. The block, implemented earlier in January, is forcing people to travel to French regions where they can use the internet.
"We call these people 'internet refugees'," a Cameroonian from Bamenda, who identified himself as JR, told IBTimes UK.
He explained that he was able to use social media as he had travelled 90km from Mabenda where he could "pick up signals from the communication mast in the French-speaking West Region".
"Those in Bamenda move towards Baffoussam ( Capital of West Region) in the French-speaking zone. While those in Buea - which happens to have many tech start-ups and is the most affected - move to Doaula (Littoral Region)," he explained.
JR said he was afraid for his life and claimed security forces had been arresting people - including one of his friends, whose whereabouts remain unknown – who move to French zones.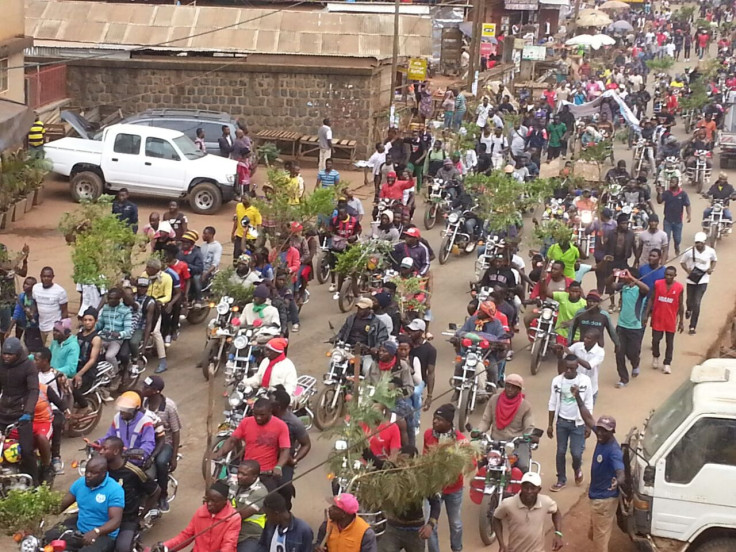 People took to the streets of Bamenda, capital of Northwest Region, calling for independence
Pro-independence activists
Some analysts have claimed authorities are failing to address people's long-standing grievances that go beyond the use of French in courts and schools. The internet shutdown has now intensified grievances, with claims it was now affecting local businesses.
"The issue with the so-called Anglophone crisis is not the lack or absence of a constitutional apparatus to balance the needs of both languages and culture, it is the absence of implementation and responsibility for those who are tasked with making sure that what is written in the constitution is applied in practice," said David Otto, security analyst and counterterrorism expert at UK-based TGS Intelligence Consultants.
Otto, who recently visited the affected areas, explained the government had set up a commission, not yet operational, to look into the issues.
"It is rather contradictory to expect people to return to work or school if they have no internet connection. Some people are considering temporary relocation, a measure that is expensive and frustrating to those who cannot afford to," he explained.
"No one truly wants to see the country disintegrate but when matters are left unresolved for so long, it escalates to demands, some of which are simply not achievable," Otto, a senior adviser for Global Risk International, concluded.
© Copyright IBTimes 2023. All rights reserved.