English-speaking Cameroon close to 'guerrila warfare' if crisis talks don't happen
English-speaking Cameroon witnessing protests against perceived marginalisation and use of French.
The Cameroonian government has banned two Anglophone organisations amid ongoing tensions in its English-speaking areas. Now a security analyst has warned IBTimes UK that this action could send the English-speaking regions into a cycle of guerilla attacks by protesters against security forces.
In a letter dated 17 January made available to local media, the Cameroonian government banned all activities by CACSC and the the Southern Cameroons National Council. Barrister Nkongho Felix Agbor-Balla, president of the Cameroon Anglophone Civil Society Consortium (CACSC), and the group's secretary general, Dr Fontem Neba, were also arrested.
"Any other related groups with similar objectives or by anyone partisan to these groups, are hereby prohibited all over the national territory," the letter said, according to independent online news site Africa Times.
The ban and arrests occurred on the second day of this week's so-called 'ghost town' strike in Buea and Bamenda, capitals of the south-west and north-west provinces, the country's only Anglophone areas.
Lawyers, teachers and students have been striking and protesting since October 2016 against perceived marginalisation and the use of French in courts and schools in the provinces. It is also believed internet was blocked in the two provinces.
The Cameroonian High Commisison in London has not responded to a request for comments.
Since last October, protests have resulted in the death of at least four protesters in Bamenda, according to police sources. Dozens have been arrested, with right groups calling on authorities to investigate on the deaths.
The Cameroonian government, which denied allegations of excessive force by military and police to quell protests, is engaging with the organisers of the strike. However, it has rejected calls for a referendum on a possible return to a federal system.
Some groups have also taken to the streets demanding a return to a federal state system and the breakaway of the north-west and south-west provinces and the restoration of 'Southern Cameroons', or the Republic of Ambazonia, a British mandate during colonisation.
Some analysts have claimed authorities are failing to address people's long-standing grievances that go beyond the use of French in courts and schools.
David Otto, security analyst and counterterrorism expert at UK-based TGS Intelligence Consultants, believes banning Anglophone groups could result in radicalisation. "Banning the consortiums means losing grip of those two key regions – a precedent that signals the ushering of brute force and chaos," he told IBTimes UK.
"If there are any good men or statesmen left out there, this is the time to intervene to support the Cameroon government and resolve the current crisis. This will be a proactive and early intervention to avoid a genocide that will see millions of aid coming at the wrong time.
"Already we can witness retaliatory attacks between the civilian population and the security services – a sign of looming danger when the security services counter react," Otto, who is also a senior adviser for Global Risk International, continued.
"Keeping the consortiums in the dark by banning its activities for engaging dialogue is a red flag. Most guérilla warfares are hatched when the state in question bans the activities of a group that has the barking of a huge amount of young and aggrieved followers."
Southern Cameroons and independence calls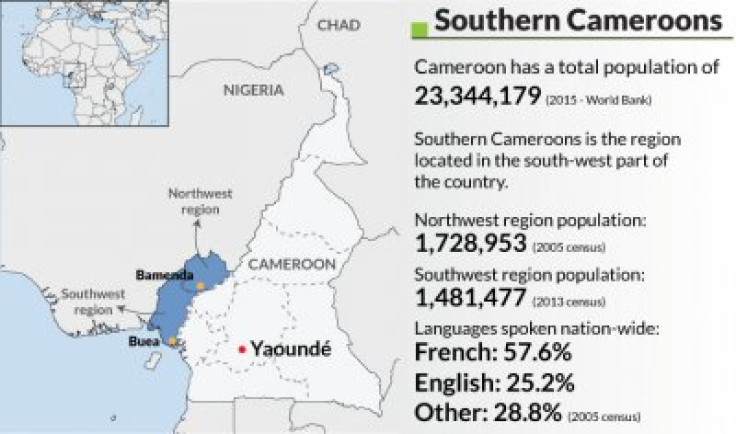 ibtimes.co.uk
Southern Cameroons was the southern part of the British Mandate territory of Cameroons during the colonisation.
In 1961, people of Southern Cameroons voted whether to join Nigeria or the Republic of Cameroon, which had already obtained independence from Britain and France one year earlier. The vote resulted in Southern Cameroons becoming part of the French speaking Republic of Cameroon.
In 1972, a new constitution was adopted in Cameroon, replacing the federal state with a unitary state.
The Cameroon Anglophone Movement was created in 1984. People originally sought a return to a federal system, but eventually started calling for independence.
More on possible alliance between Southern Cameroons and pro-Biafrans.
© Copyright IBTimes 2023. All rights reserved.