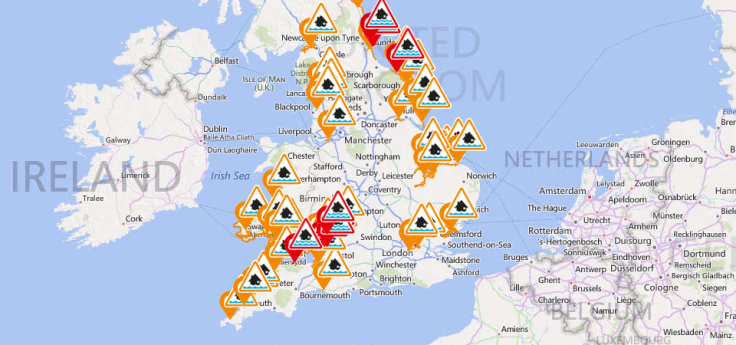 Britain is bracing itself for overnight floods after the Environment Agency issued a total of 10 flood warnings and 45 flood alerts, mainly in the coastal areas.
Huge tides or supertides triggered by the rare alignment of the sun, moon and earth are threatening to cause flooding across parts of the the UK, with the River Wye estuary in Monmouthshire and Gloucestershire and north-east of England most at risk.
The agency said the rare supertide phenomenon is taking place for the first time in 18 years.
A spokesman said: "High tides will peak on Tuesday bringing a risk of minor localised flooding around the Wye estuary in Gloucestershire and Monmouthsire, along with parts of the Yorkshire coast on Tuesday and Wednesday.
"Localised disruption to travel and some flooding of low-lying land and individual properties is possible. We urge people to take care near coastal paths and promenades and not to drive through flood water.
"The Environment Agency is monitoring the situation closely alongside the Met Office and will issue further flood updates and warnings if required. People should check their flood risk and keep up-to-date with the latest situation."
The spokesman said that the astronomical tide is at an 18-year peak, noting that this is only a few centimetres bigger than a more average spring tide.
High tides do not necessarily lead to flooding but if they coincide with a combination of low pressure and strong winds, they can cause coastal flooding, The Telegraph reports.
It said earlier in the year, an unusually high tide following the solar eclipse caused water to seep over the bank of London's River Thames. The Thames barrier was also closed to protect London from the rising water levels.
In France, the supertide briefly cut off the famous Mont Saint-Michel from the mainland in March.
The last supertide occurred on 10 March 1997 and the next is expected to take place in March 2033, the Telegraph said.