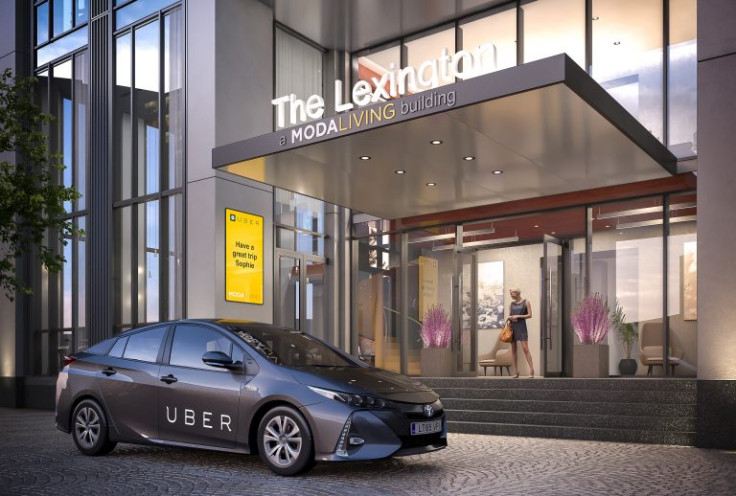 London-based housing developer Moda Living is teaming up with Uber in a "first of its kind" partnership to help cut car ownership and congestion in large cities across the UK. The developer will soon offer apartments with free Uber rides included in the rent if the resident agrees to forego a car parking space within the Moda development.
Uber will offer every participating tenant up to £100 credits per month to spend on Uber rides that they will be able to access via their Moda resident app.
"Instead of owning a car and renting a parking space, Uber credit will allow residents to simply press a button and get a ride, reducing the need for city centre car ownership", Moda said in a statement. "By partnering with Uber, Moda is hoping to create more sustainable developments as UK policymakers seek to encourage more housebuilding while reducing emissions."
Moda plans to use the freed up space, which would otherwise be used for car parking, for better amenities within the development such as fitness centres and media rooms.
"Cars are one of the most expensive assets most people own, but they're used just five percent of the time," Jo Bertram, regional general manager of Uber in the UK said in a statement.
"By getting more people to ditch their own vehicles we can put some of the space wasted on parking to much better use. And with more people using car sharing options like UberPOOL we can reduce congestion and emissions too."
The scheme will first be offered to tenants of Moda's Angel Gardens in Manchester, which is currently under construction. Set to be completed by 2019, the development will house about 900 residents and feature 466 apartments but will have just 149 parking spaces.
Moda is developing more than 6,000 apartments across the UK, including major city centre developments in London, Edinburgh, Glasgown, Liverpool, Birmingham and Leeds.
Moda Living managing director Johnny Caddick said since their apartments are for rent rather than for sale, they do need to "consider how our customers will live in cities in the future."
The new campaign comes as San Francisco-based Uber grapples with a slew of controversies stateside, including allegations of sexual harassment and underpaid drivers, a fierce lawsuit with Google's Waymo over self-driving technology, secret tools used to deceive law enforcement and track rival Lyft drivers, and an exodus of top executives.
Earlier this month, Uber suffered a major setback in Europe after the region's top court was advised to rule that the service should be regulated as a transportation service rather than an app. Last week, London's transportation authority renewed Uber's license to operate in the city for just four months as it mulls whether to grant the firm a five-year license.