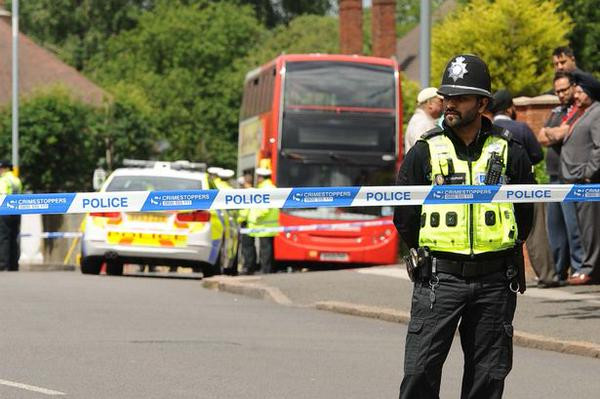 A mother and her four children are fighting for their lives after being mowed down by a speeding car as they strolled to the park.
The incident occurred on Grove Lane in Handsworth, Birmingham, at 12.05pm on Sunday (21 June).
Five ambulances and an air ambulance were rushed to the scene where paramedics found a woman in her 30s, a four-year-old boy, a seven-year-old girl, a 12-year-old girl and a 14-year-old boy had been hit by a grey Seat Leon as the family crossed the road.
Witnesses said the car was "doing 100mph" and the force of the impact sent the two youngest children flying "20 to 30 metres down the road".
A West Midlands Ambulance Service spokesman said the children were taken to Birmingham Childrens' Hospital, where their conditions are described as life-threatening.
"Crews arrived to find a car that had been in collision with a group of pedestrians. Five pedestrians were injured in the collision; a girl believed to be seven years old suffered serious head injuries and went into cardiac arrest at the scene. Advanced life support was carried out by medics.
"A boy, believed to be four years old, suffered serious head injuries and was resuscitated by medics at the scene after he stopped breathing for a short time.
"A woman in her 30's suffered serious head and pelvic injuries in the crash. She received emergency treatment at the scene from medics and was transferred to Queen Elizabeth Hospital Major Trauma Unit for further emergency treatment.
"A girl, believed to be 12 years old, suffered serious head injuries and also back injuries. She also received emergency treatment at the scene by medics to stabilise her condition. A boy, believed to be 14 years old, also suffered a head injury. Unfortunately the patients' injuries are considered life threatening."
Residents in the Birmingham suburb expressed their shock at the incident ona busy road with the junction of Antrobus Road.
One resident, who wished to remain anonymous, said: "It was horrific. The bodies of the youngest children were flung about 20 or 30 metres down the road. The car must have been doing 100mph. I pray they pull through. Bodies were scattered everywhere.
"I was told they were going to the Handsworth Park for a nice family afternoon, then this happens, it is unreal. I was horrified by what I saw."
Another witness, who was travelling on a bus on Grove Lane when the collision occured, said: "I was at the front of the bus so got a clear view. I could see the family going across the road towards the park.
"You never expect this sort of thing to happen. I ran down and told everyone to get an ambulance. I could not put the victims in the recovery position because there was a risk it might hurt them more. It has left me traumatised."
Local residents say the road is an accident blackspot and blamed Birmingham City Council for failing to act previously despite calls for safety measures to be implemented.
Jas Karra, 40, who lives nearby, said: "I petitioned the council several years ago for speed bumps but my concerns were completely ignored and I have never heard back. Will it take a serious accident like this to make them act?"
The accounts worker said he knew of at least five accidents near the scene of the crash in the last three months alone.
He added: "People fly up the road at such speeds, without a care for other motorists or pedestrians. This is such a close-knit community, my heart goes out to the family concerned. I hope they all make a full recovery."
Police have arrested a 35-year-old man on suspicion of dangerous driving.