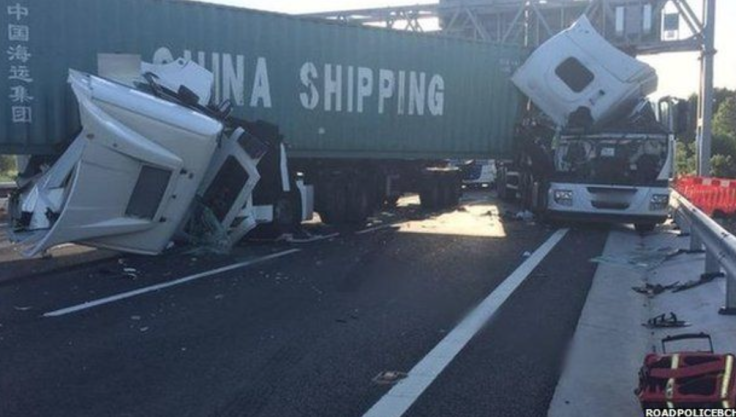 A lorry carrying seven-and-a-half tonnes of teddy bears was involved in a major collision with three other HGVs on Thursday (28 May).
Cambridgeshire Police said 15 motorists will be prosecuted after they were caught snapping photos of the crash site while driving. They will receive letters regarding court proceedings within 14 days.
A police spokesman said: "The officer decided against pulling over the drivers and dealing with them immediately. Instead he took down their registrations. It was a spur of the moment decision by the officer.
"Using a mobile phone while driving is incredibly dangerous. If they are taking photographs or filming a collision, they are not paying attention to the road and could cause further incidents.
"You don't need to be talking on the mobile phone to face prosecution. Even if they are not talking on the device, they will face prosecution if in the opinion of the officer, they are a danger to themselves or other road users."
The HGVs collided at the Girton interchange just before 6am, and the road was closed for several hours between junction 36 for Nine Mile Hill and junction 31 for Girton, causing a 16-mile tailback. It was reopened at about 1:15pm.
Two of the lorry drivers were taken to Addenbrooke's Hospital with minor injuries.
Eyewitness Ryan Ferrara told Cambridge News: "I drove past at around 8.20am this morning coming towards Milton on the A14.
"On the other side two lorries had crashed into one another, both cabs of the lorries are totally obliterated. The load of second lorry looked like it had come loose and shot forward. The first lorry had stopped and crashed in to the side barrier.
"The crash is one of the worst I've ever seen on the A14, I'd like to think both drivers are okay, but it would be a miracle if both of them come out unmarked."
Police said none of the lorries shed their loads during the collision, and appealed for witnesses to contact them on 101.