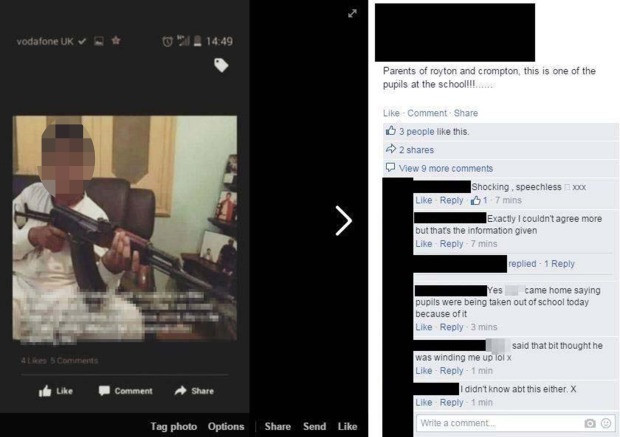 Worried parents have taken their children out of a school in Manchester, after a teenage student posted a photo of himself holding a huge AK-47 rifle on Facebook. The photograph, originally posted in August, was allegedly taken while the boy, aged 13 or 14, was visiting relatives in Pakistan earlier this year, where such weapons are legal if their owners have a licence. He reposted the image bearing a French flag as a tribute to the Paris terror attack victims.
The image appeared on the news feeds of pupils at the school prompting parents of several pupils from Royton and Crompton School in Oldham, Greater Manchester to pull their children out of school.
Parents informed the police and council and the boy's parents. Police officers investigating the matter said the child did not commit a crime by posting the picture of the gun, which has since been deleted.
A police spokesperson told Metro.co.uk: "Greater Manchester Police has been made aware of an image on a social media site. The image has since been removed and police have spoken to the individuals concerned where it was deemed no offences have taken place."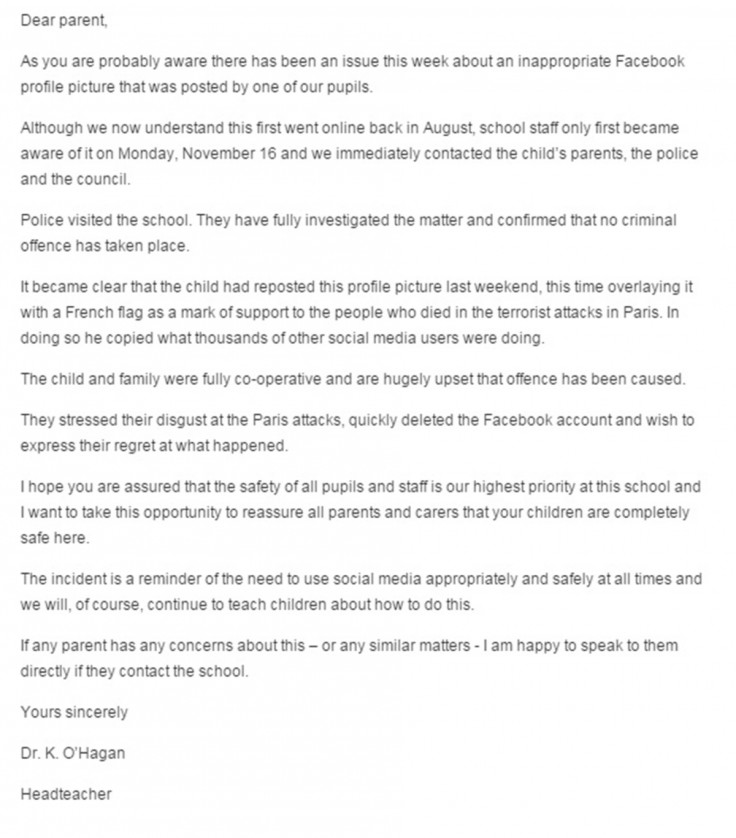 The headmaster of the school, Kevin O'Hagan, issued a letter to parents reassuring them that the teenager had not intended to worry anyone and the family were distressed at having caused offence. He said the child and family were 'fully co-operative and are hugely upset that offence has been caused' and added that they expressed 'their disgust at the Paris attacks' and have deleted the Facebook account. He assured parents of their children's safey at the school and reminded them of the importance of using social media safely.
The incident has left parents and children concerned, with many parents stating that their children no longer felt safe at the school. A father of a pupil told MailOnline that there was a 'mass exodus' out of the school as parents withdrew their children from classes.
He said: "When you see another child in your son or daughter's class posing with a gun, then you don't take any chances".
Tensions have been heightened following the Paris terror attacks on 13 November, that left 129 people dead and over 400 injured.