The UK technology sector is in a buoyant mood as almost half of firms expect to hire more workers over the next year.
According to research from KPMG and Markit, 49% of technology firms expect to employ additional staff over the next 12 months.
The study also revealed that the current job hiring by UK technology companies is close to its strongest for three years, and faster than the UK private sector average [Fig 1].
"UK tech companies clearly punch above their weight in terms of contribution to UK GDP growth. The latest survey results will be reassuring to policymakers given the importance of the sector to the sustainability of the economic recovery," said Tim Moore, a senior economist at Markit.
"The health of the tech sector and its ability to deliver productivity gains across the wider economy are key factors that will determine how quickly the UK economy can recover without hitting growth constraints.
"Strong figures from the tech sector add to a recent flurry of positive news on the UK economy, which has prompted substantial upward revisions to the 2014 growth outlook from institutions such as the IMF and Office for Budget Responsibility.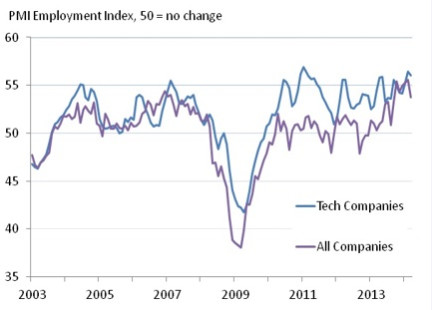 The research also found that technology sector business activity growth in the first quarter of 2014 was only marginally slower than the ten-year high reached at the end of 2013, supported by steep rises in incoming new work and the lowest rate of cost inflation for over four years.
KPMG and Markit said the headline UK Tech PMI index measuring UK tech sector business activity posted 60.0 in March, well above the crucial 50.0 no-change threshold and close to the ten-year high of 60.9 recorded at the end of 2013.
This indicates that business activity growth in the technology sector outstripped that of the UK economy as a whole.
The figures come after Office for National Statistics (ONS) recently revealed that the UK's unemployment rate dropped to 6.9% in the three months to February as more than 30.2 million people were in work.