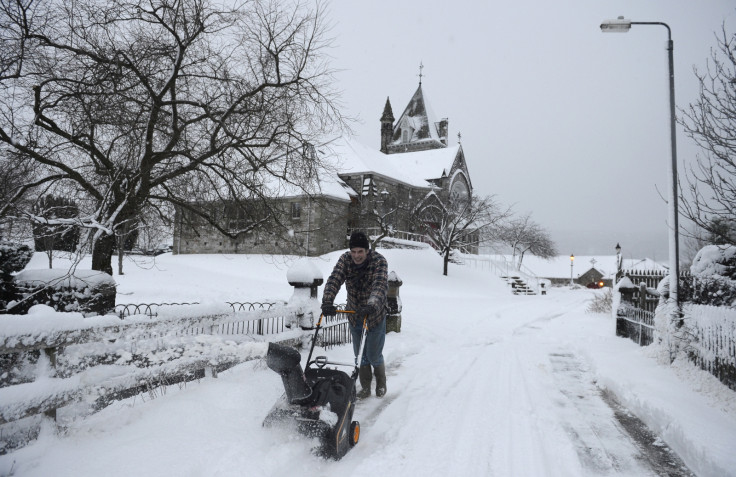 The weather forecast for the UK could be the biggest freeze in decades, with temperatures dropping to -8°C, with a wind chill making it colder than Lapland.
The Met Office has issued warnings for snow and ice as weather experts predict it will be similar to the Big Freeze of 1963.
Arctic blasts in parts of Scotland have sent temperatures plummeting, making Saturday the coldest day of the year so far, 1° lower than northern Finland.
"There is a possibility to see the coldest temperature of the year so far," a Met Office spokesman told the Times.
"The previous low of the year was set on February 17 in Altnaharra, Scotland. It was a low of -7.7°C but overnight we could see the temperature drop as low as -8°C in parts of Scotland, around the Braemar area.
"Temperatures will be cold across the country and we could see still temperatures dropping into minus figures in London and the south of England, with lows of around minus -1°C expected."
Some UK areas including Scotland could be covered with up to five feet of snow. Forecaster James Madden said there was the possibility of a "colossal" area of much colder-than-average surface water in the mid-Atlantic, bringing a prolonged blast of Siberian winds.
Madden told the Mirror: "This is of quite some significance as the Gulf Stream effectively acts as a heat machine for our shores, in particular, during our winter months.
"Without the influence of this vital heat source, we can expect a horrific winter to develop with frequent blizzards and strong winds, and extremely cold conditions across many parts of the country.
"During the winter period of 1962/63 the famous big freeze took a hold of the country from around Christmas until the spring of the following year because of a similar situation.
"Several feet of snow fell in parts of southern England, temperatures dropped to below -20°C (-4°F) in places, and snow remained on the ground for months on end.
"We could be looking at a very similar timeframe and scale of events this time around.
"I don't like saying this but the factors are there for an extremely cold spell in January which will possibly extend into February."
The Exacta Weather forecaster said: "The south and west are likely to bear the brunt of the extreme conditions with double negative overnight lows in England and Wales down to -15°C and daytime temperatures struggling to get above freezing.
"People should certainly be prepared – it's really important to have enough fuel to heat your home."