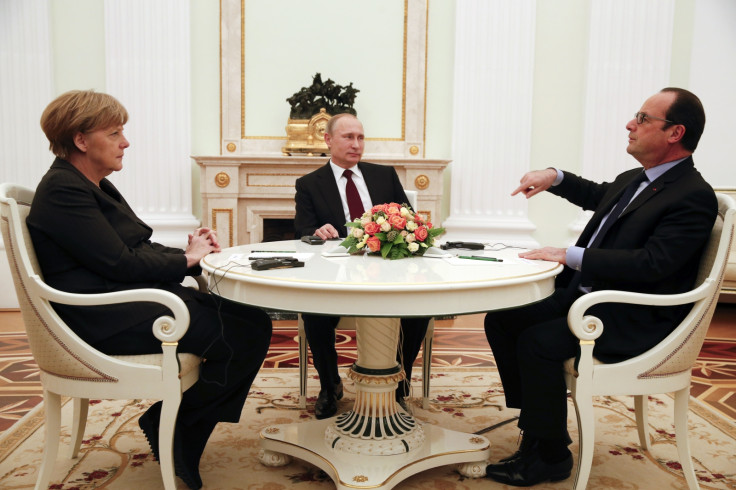 The Russian media claims an agreement has been reached which could pave the way to a potential ceasefire in Ukraine.
The reports from Russia's state-run agency Ria Novosti, which have yet to be confirmed, suggest Vladimir Putin and Petro Poroshenko have agreed the key terms of a ceasefire deal in Minsk, and the agreement will be signed early on Thursday morning.
German Chancellor Angela Merkel and French President Francois Hollande have been frantically rallying for a truce between the Russian and Ukrainian leaders to avoid an escalation in the East-West crisis.
Citing Ria Novosti, CNN reported that the leaders have reached agreement over key issues such as the pulling back of heavy weapons, the creation of a demilitarised zone and the status of the Donbass region in eastern Ukraine.
Earlier, US President Barack Obama had pledged to arm Ukraine so that it could protect itself from pro-Moscow rebels, as 5,000 people have died in the 10-month long conflict. Hence, to avoid the Cold War foes from confrontation, Europe stepped in to iron out the differences between Russia and Ukraine.
According to the Telegraph, negotiations had passed the ten-hour mark at 0300 GMT and the four leaders remained in Minsk's opulent presidential palace without their advisers.
Ahead of the make-or-break talks, 19 Ukrainian soldiers were killed when they were attacked by pro-Russian rebels near the town of Debaltseve in eastern Ukraine.
"In shelling, rocket attacks and military clashes, Ukraine lost 19 soldiers including 17 members of the armed forces and two interior ministry soldiers," military spokesman Vladyslav Seleznyov had told a briefing.