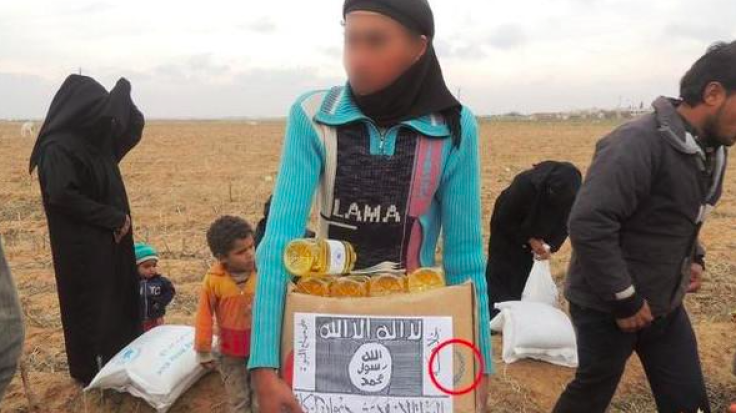 The UN's World Food Program expressed its alarm after seeing images of its Syria food aid being distributed from boxes bearing the Islamic State (Isis) logo.
The World Food Programme (WFP) is trying to determine the authenticity of the images circulating across social media and expressed being "extremely concerned".
WFP's Regional Emergency Coordinator for the Syria crisis, Muhannad Hadi, said in a statement on Monday (2 February): "WFP condemns this manipulation of desperately needed food aid inside Syria.
"We urge all parties to the conflict to respect humanitarian principles and allow humanitarian workers including our partners to deliver food to the most vulnerable and hungry families."
In the images circulating on Twitter on Tuesday (3 February), children can be seen gathering around and picking boxes marked with the IS black and white flag.
In several of the images, hints of the UN light blue logo can be seen beneath the IS flag plastered on the boxes.
#ISIS Is Handing Out Stolen U.N. Humanitarian Aid With Its Own Logo http://t.co/0nbDYHjCO3 pic.twitter.com/3yp8jWpsZN

— Conflict News (@rConflictNews) February 1, 2015
#ISIS rebrand #UN food aid and label them with their infamous insignia http://t.co/528w0moAcd pic.twitter.com/0S7VhdYRb5 — Julie Lenarz (@MsIntervention) February 2, 2015
ISIS Hypocrites are distributing UN (WFP) humanitarian aid wth their own Logos as if its from them pic.twitter.com/nkBWVBxrHI v @acerakis #Syria

— Darya Ali (@ak_darya) February 3, 2015
RT @BenParker140 ISIS doing a little rebranding of WFP food parcels: via @vocativ http://t.co/u02khMwmNQ pic.twitter.com/g3Uztwma7B — Timothy Large (@timothylarge) February 3, 2015
According to WFP, the images appear to have been taken in the northern Syrian village of Dayr Hafr, where the WFP last delivered aid on 5 August last year.
"WFP has learned that in September 2014, [IS] raided Syrian Red Crescent (SARC) warehouses in Dayr Hafr where undistributed food rations may have been stored," said WFP.
"All areas controlled by [IS] are security hot spots, which severely limits the ability to monitor food distributions."
WFP has been reportedly delivering food aid to over four million people every month in Syria.