The United Nations Security Council will meet in New York this evening (22 March) to discuss the worsening crisis in Yemen, where armed Houthi militants have seized one of the country's largest cities.
The Houthis, who are opposed to the Presidency of Abd-Rabbu Mansour Hadi, entered Taiz in large numbers, taking control of the centre, a prison and the airport, their militia shooting into the air to disperse thousands of protesters.
The situation in Yemen has been deteriorating for some time, culminating in Friday's (20 March) double suicide bombing of mosques by militants claiming allegiance to Islamic State (Isis) in which at least 142 died.
Now there are fears Saudi Arabia and other Middle Eastern Sunni countries could be dragged into the conflict in Yemen – the most impoverished country in the region – as a counter to the Iranian-backed Houthi.
President Hadi, who was forced to leave the capital Sanaa for Aden in 2014 when he was placed under house arrest, accuses the Houthi militia of staging a coup and appeals to the United Nations for urgent intervention in the region.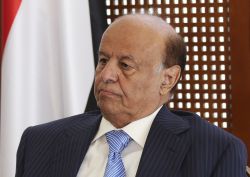 In a letter to the Security Council Hadi denounces the "criminal acts of the Huthi militias and their allies", saying they represent a threat to peace not just in Yemen "but the regional and international peace and security".
A coalition of Arab leaders said "all efforts" would be made to secure Yemen's security, saying: "Yemen is sliding into a dark tunnel which would have serious consequences not only on Yemen but on security and stability in the region."
The officials added: "The security of Yemen and of the GCC countries is an indivisible whole."
However, Iran's deputy foreign minister suggested that Hadi should leave the country to spare further bloodshed.
Hossein Amir Abdollahian told the state news agency IRNA: "The expectation is that President… Hadi will resign rather than repeat mistakes, to play a constructive role in preventing the break-up of Yemen and the transformation of Aden into a terrorist haven."
Yemen has long been home to al-Qaeda in the Arabian Peninsula (AQAP) which on Friday seized the city of al Houta, causing the withdrawal of the last US troops and officials to remain in the country.