The United Launch Alliance (ULA), a space joint venture between Boeing and Lockheed Martin, is 3D printing flight-ready components for its Atlas V rocket and estimates it is saving up to $1m a year by switching to manufacture components using 3D printing.
3D printing, also known as additive manufacturing, has the power to transform manufacturing. It is already making inroads in the aircraft industry as plastic parts are being used to replace traditional metal fixtures in planes, but it is now coming to space too.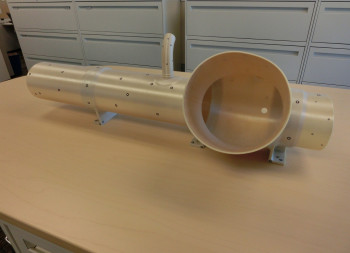 "Right now we outsource 60-75% of the rocket to third parties. We do software, assembly and integration, and we make some of the parts, but more than half the parts we buy from outside and bring in," Greg Arend, ULA's program manager for additive manufacturing, told IBTimes UK.
"We're able to save between well over 50% and in some cases over 95% by printing the part instead of forging it the traditional way."
ULA first got into 3D printing three years ago and has several Stratasys Fortus 900MC machines.
The rocket components being 3D printed are currently limited to internal components such as the duct for the environmental control system, brackets to support instruments, nozzles to direct cooling flow within the rocket, as well as close-off panels used to seal off compartments.
"Almost all aerospace companies are now getting into 3D printing in some respect," Arend said.
"Many companies are pursuing metal technologies and we're about to get into that as well, but we've spent the last year focusing on polymer technologies as we've seen lots of opportunities were polymer parts can replace metal parts as they are strong and have half the density."
Using plastic rather than metal components in space
According to Arend, by printing Ultem 9085 FDM thermoplastic material, which was approved by regulators decades ago for use in aircraft, the firm can save a lot of money, especially as metal 3D printing technology is still in its infancy.
Ultem is so strong, it can withstand a wide range of temperatures from -59.4 to 107C (-75 to 225F).
"The polymer machines and printing in general is less expensive, and there's also less post-processing involved," he said.
"With metal parts you have to do additional machining, heat treating or radiographic inspection. It's expensive and time consuming, and the machines themselves tend to be more expensive."
But the firm also wants to be able to have 3D printed rocket components attached to the outside of the rocket, and if tests to replicate space conditions go well in 2015, the first flight-ready internal and external 3D printed rocket components made of Ultem will be outfitted to unmanned rocket space flights lifting off from early 2016.
"We'll have a couple dozen unmanned space flights with 3D printed parts before manned flights occur," Arend said. "The technology isn't there today to print an entire rocket with large parts in high quality, precise materials at that scale. But in 10 years, who knows, that's quite
possible."
Working towards a totally 3D printed rocket
However, while a totally 3D printed rocket might be out of the question, it is still possible to put 3D printed plastic into components onto the outside of the rocket.
"Another exciting thing we're testing is we're subjecting Ultem parts to a simulated aeroheating environment. Aeroheating is any parts on the outside of the rocket that experience heat as the rocket ascends through the atmosphere into orbit at supersonic speeds," Arend said.
"We want to see how much Ultem can stand. Can we make parts that have insulation on the outside, an outer layer of Ultem that can be sacrificed [if it] burns and breaks, and then an inner structural layer of Ultem that you keep, separated by a lower density of Ultem, and it's all made in one step."
It is in ULA's best interest to save costs on manufacturing but if it stops using its suppliers, it could affect the livelihoods of the people who manufacture components the traditional way, as well as the US aerospace jobs market.
"3D printing is likely to have some impact to traditional parts machining, but it's going to offer other companies the growth. We want to bring more parts manufacturing in-house," Arend said.
"Overall, I think it will mean more jobs. We will be making more parts so we will need more people, and its creating a whole new industry."