The city of Oxford is to strip Myanmar's de facto leader, Aung San Suu Kyi, of a prestigious award, due to her response to the Rohingya crisis in her country. Suu Kyi received the "Freedom of Oxford" award in 1997 for her fight to achieve democracy in her country, also known as Burma.
However, Oxford City Council has unanimously decided to remove her honour following allegations of human rights abuses against Muslim Rohingyas in her country.
More than 500,000 ethnic Rohingya have fled to neighbouring Bangladesh in recent weeks to escape a military operation in Myanmar that the UN says may amount to ethnic cleansing.
Suu Kyi has been widely condemned for her prolonged silence on the crisis.
Bob Price, the council's leader, told BBC Radio Oxford that evidence coming out of the UN meant she was "no longer worthy" of the honour. He described the decision as an "unprecedented step".
"I think it is perfectly natural to look around for ways of saying we disapprove utterly of what you are doing," he said.
The portrait will be formally removed at a special meeting next month, but the decision could still be reversed if the situation in Myanmar changes, councillors said.
The decision came days after an Oxford University college removed a portrait of Suu Kyi due to her role in the humanitarian crisis.
St Hugh's, where Suu Kyi graduated in 1967 and was later awarded an honorary degree in 2012, said the portrait will be placed with a painting by Japanese artist Yoshihiro Takada.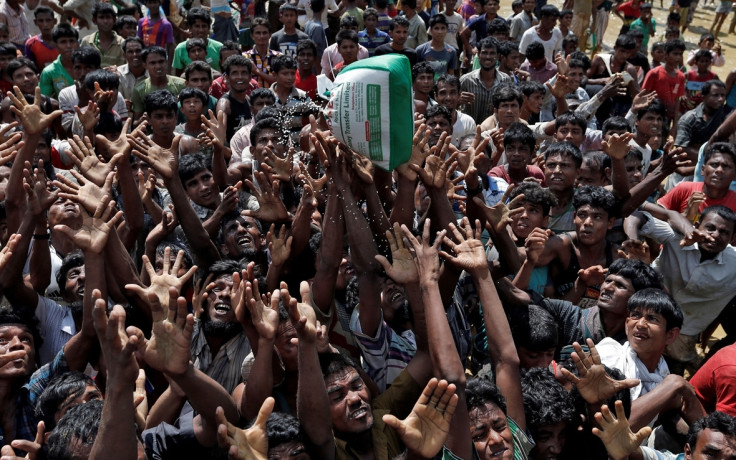 The Rohingya have been dubbed as one of the world's most persecuted ethnic minorities. They live in segregated conditions in the Buddhist-majority Myanmar, where they are regarded as stateless people and unwelcome migrants from Bangladesh. They routinely flee the country to escape alleged persecution from the state.
The latest exodus was sparked in August following attacks by Rohingya insurgents that killed at least 12 people in Rakhine state. The military retaliated in what was described as "clearance operations" to identify and root out any fighters found in villages across Rakhine.
In her first address on the situation earlier in September, Suu Kyi condemned human rights abuses, but failed to address UN accusations of ethnic cleansing.
In her speech, Suu Kyi did not use the word "Rohingya". She later explained she thought it was too "emotive" and "highly charged" for an already affected population.
"There has been a lot of controversy with regard to the term used to describe the Muslims in Rakhine as there are those who want to call themselves as Rohingyas or who want to refer to the Muslims there as Rohingyas. There are those who want to call themselves as just Bengalis, which are not ethnic Rakhine," she told ANI news agency in Myanmar's Naypyitaw in an interview.