Head of US forces in the Japanese island of Okinawa has indicated that he sees no need in halting the operations of accident-prone US Marine Corps Osprey aircraft in Japan, brushing off concerns by the Shinzo Abe government.
The calls to ground all the MV-22 Osprey flights came following a fatal crash involving one of its tilt-rotor aircraft off an Australia coast on 6 August. The incident took place during an exercise, leaving three personnel on board missing and presumed dead.
"Ospreys are flying around the world. It is the military's policy," Lieutenant General Lawrence Nicholson reportedly said on Tuesday (8 August), according to Okinawa Deputy Governor Moritake Tomikawa.
The Osprey was based at US Marine Corps Air Station Futenma in Japan's southernmost prefecture of Okinawa.
Local media reported that Tomikawa visited the Okinawa military chief to protest the continued flights of the aircraft.
"From the viewpoint of Okinawa, it is unbearable and I cannot help but get angry," Japan's Kyodo news agency cited Tomikawa as saying. "I was not able to get any convincing answers."
The Japanese government had yet again urged the US military to refrain from flying Ospreys in Japan on Sunday. However, the US was reported to have flown the aircraft on Monday, rejecting the Tokyo's request.
Japan's new Defense Minister Itsunori Onodera also urged the US to temporarily stop flying the Osprey in the country following the accident.
"We still have many concerns," Onodera said.
The incident involving the Osprey is the latest to come under criticism by Okinawa residents, who have been agitated with accidents linked to the US bases.
In December 2016, Japan had called on the US to ground the aircraft following the crash landing of the Osprey off the coast of Okinawa earlier in the month.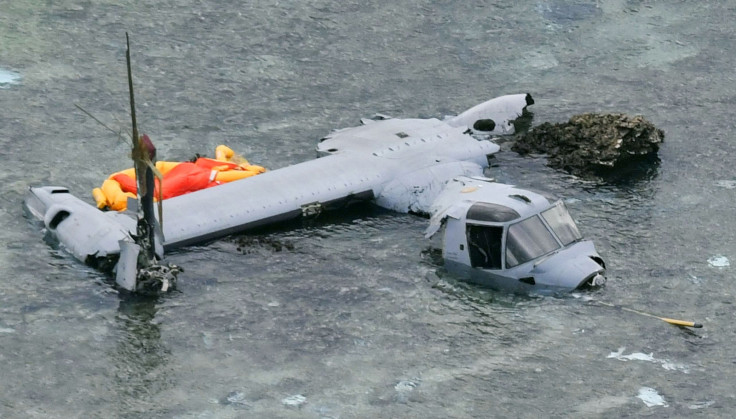 It was reported to be the first accident involving an Osprey aircraft in Japan since its deployment in the country in 2012, but it marked the second crash of a Marine aircraft in the region in less than one week. On 7 December, a US Marine Corps F/A-18C Hornet went down in waters some 250km southeast of Iwakuni, Japan, killing its 32-year-old pilot, Captain Jake Frederick.
Okinawa hosts the bulk of US military facilities in Japan.
The Osprey, which has both vertical takeoff and landing capabilities, is designed to take off like a helicopter and rotate its propellers to fly like a plane. It has suffered a series of accidents in other parts of the world and due to its poor safety record the aircraft is reported to be abhorred especially in Okinawa.