Thousands of people have signed a petition calling for the reinstatement of a dinner lady after she was sacked when she gave a free lunch to a 12-year-old girl who couldn't afford to eat. Dalene Bowden was fired due to 'theft' and 'inaccurate transactions' after handing out the free meal at Irving Middle School in Idaho.
Bowden was handed a letter informing her she would be relieved of her job, signed by the director of human resources at the Pocatello/Chubbuck School District. She added that she had previously been given a verbal warning for allowing a child to take a free biscuit.
Bowden, who has two children of school age, had worked at the school and others in the mid-Western state for over 25 years. She said the girl had offered to pay the fee of around £1 ($1.70) but she refused.
Her story has attracted hundreds of comments on social media platforms and an online petition was launched demanding she be reinstated as a cafeteria worker at the school. The petition has attracted over 54,000 signatures.
"This is just breaking my heart," she told the Idaho Statesman. "I'm not apologising and I would do exactly the same thing again regardless of the consequences.
"I broke the rules, but I offered to pay for the meal and I don't think I deserved to lose my job over it. I know I screwed up, but what are you supposed to do when the kid tells you that they're hungry and they don't have any money?"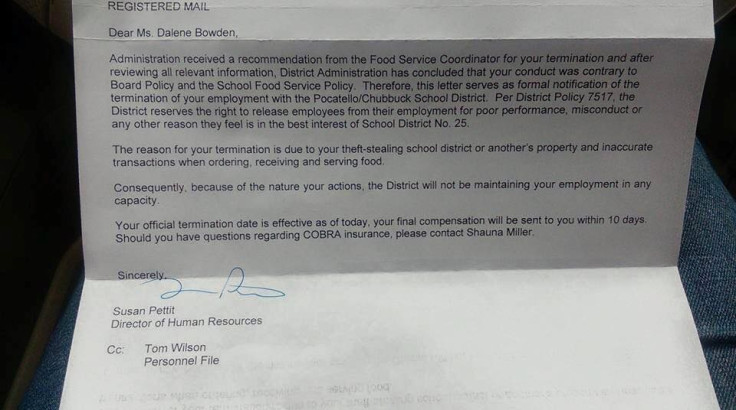 Parents of children in the school district started the petition to try and get her re-instated. Raushelle Guzman, of Pocatello, started the petition. She said: "I think (Bowden) did the right thing and I think we need to make sure that every child that wants lunch can have lunch.
"I think the district's policy needs to be changed. We do not need to humiliate or demean any child or worker in that situation."
More about schools in the US