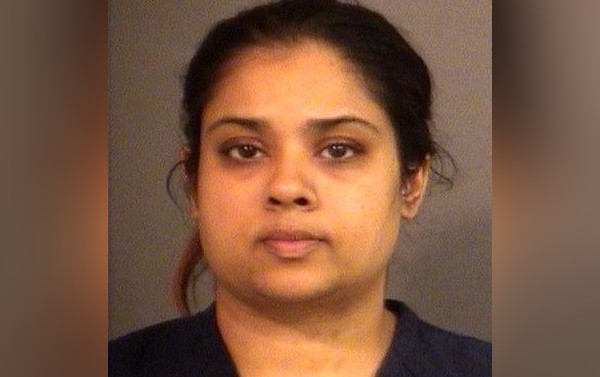 An Indiana woman has become the first in the US to be charged, convicted and sentenced for "feticide" after ending her own pregnancy. On 30 March, Purvi Patel was sentenced to 20 consecutive years in prison for both child neglect and for killing her foetus, as well as five years probation.
According to the Washington Post, Patel maintains that she suffered a miscarriage, which led her to go to the maternity ward at St. Joseph Regional Medical Center in Mishawaka. However, St Joseph Superior Court Judge Elizabeth criticised Patel for throwing her premature baby in the trash and lying to hospital staff about giving birth.
"The crux of this case lies in the choices you made after you delivered that baby and you realized the outcome was different than you hoped it would be or expected it would be," Hurley said, according to the Chicago Tribune.
The 33-year-old of South Bend, Indiana told police she gave birth to a premature baby in July 2013 who looked lifeless. After not being able to resuscitate the baby, Patel said she placed the baby's body in a plastic bag and threw it in the dumpster before heading to the emergency room. Patel said she was in shock and that she "didn't know what else to do" when asked why she didn't call 911.
Despite Patel's claims of miscarriage, prosecutors stated that she used illegal abortion medication from China to induce a miscarriage. However, toxicology on both Patel and her baby did not find evidence of drugs.
Patel's case has caused some controversy after she was convicted on charges of feticide, the killing of an unborn child and of child neglect. Dr Kelly McGuire, the obstetrician who treated Patel, testified in court that he believed it had not been a "simple miscarriage" and also that he thought the baby could still be alive had it been found in time.
Slate's Amanda Marcotte argued, "It really should have to be one or the other. That the jury convicted Patel of two crimes when only one was possible suggests that this was attempt to punish Patel for failing to meet a social ideal of pregnancy more than any actual crime."
Some activists also argued of the potential detrimental effects the case's outcome could have on pregnant women.
Dr David Orentlicher, a former Indiana state representative, told PRI, "Any time a pregnant woman does something that can harm a foetus, now she has to worry, 'Am I going to be charged with attempted feticide?' If you discourage pregnant women from getting prenatal care, you're not helping foetuses, you're harming foetuses."
Patel's attorney plans to appeal the guilty verdict, the Washington Post reported.