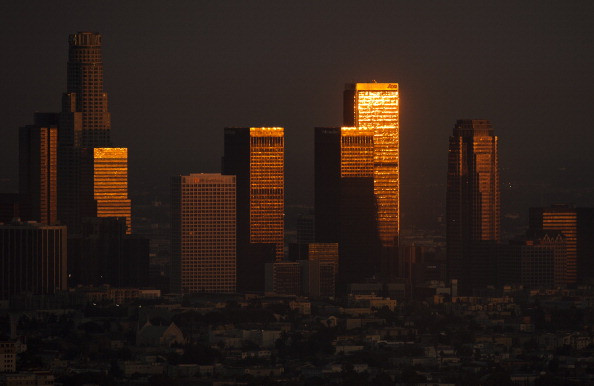 An electrician has died after falling more than 800ft (245 metres) from a Los Angeles skyscraper. The 36-year-old man, who was on his second day of the project, fell from the 53rd floor of the Wilshire Grand Centre at around noon on Thursday (17 March) onto the back of a passing car.
Assistant Chief Coroner Ed Winter identified the worker as Joseph Sabbatino, of Palmdale. Co-workers and police have described Mr Sabbatino's death as a suicide.
Lisa Gritzner, a spokeswoman for Turner Construction, said Mr Sabbatino was not supposed to be above the third floor of the building and had removed his hardhat before he fell. She added that he was not wearing a safety harness, and had not been issued with one because his work did not require it.
Chris Martin, CEO of Martin Project Management which is supervising the construction, said there were barricades around the edge of the building and other safety measures in place.
The incident happened at one of the busiest times of day at one of the busiest intersections in downtown Los Angeles, Sky News reports. The driver of the car did not appear to be seriously hurt but was taken to a hospital.
The $1bn, 73-storey skyscraper will be about 1,100ft tall (335 metres) when it is finished next year and will be the tallest on the West Coast once it is completed.