Rafael Nadal has clinched his second US Open title to extend his Grand Slam tally to 13 after defeating world number one Novak Djokovic at New York's Arthur Ashe Stadium.
The 27-year-old won the first set 6-2 with ease, Djokovic making 14 unforced errors to Nadal's four. The world number one bounced back in the second set. Nadal lost 3-6 and that saw him drop the set for the second time during the Open.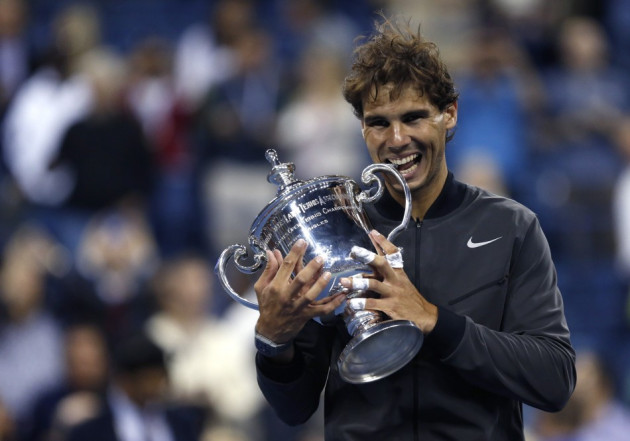 Nadal recovered to win the next two sets as he won the game in four sets 6-2, 3-6, 6-4, 6-1. Djokovic's 53 unforced errors saw him pay a heavy price as Nadal restricted himself to just 20, out of which seven came during the second set of the match.
The Spaniard returned earlier this year from a knee injury after being out of action for seven months. He continued his brilliant form on clay to bag his eighth Roland Garros crown. However, Nadal's Wimbledon dream was crushed after he was knocked out in the first round. The world number two has made an astounding comeback in the US Open to seal his 13<sup>th career Grand Slam.
Djokovic, who also is a six-time Grand Slam champion, conceded that Nadal is the best player in the world at the moment. The Serb believes the 2013 US Open winner is playing the best tennis of his career on hard court.
"With no doubt he's the best player in the moment this year. It's always the biggest challenge that you can have in our sport now. I mean, he's the ultimate competitor out there. He's fighting for every ball and he's playing probably the best tennis that he has ever played on hard courts," Djokovic said.
The US Open final was scheduled for a Monday for the fifth consecutive year in a row, giving an additional day's rest for the men's finalists. Djokovic expressed himself against the last fixture of the competition to be played on a weekday.
"I'm not in support of a Monday final, but this is what it is. I mean, it's just an ongoing subject with the US Open and with people who are in organisation here. I don't see why the US Open should get an exception in that," he said.