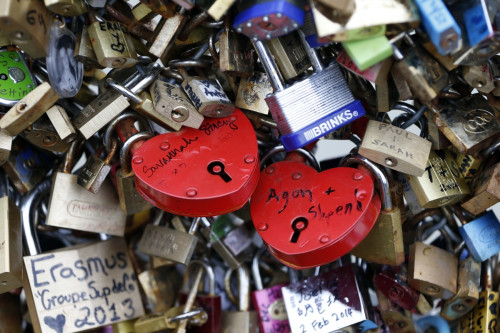 Just as it does every year, Valentine's Day 2014 has brought an avalanche of snobbery and cynical remarks from Western commentators, sick of the commercial charade of the so-called "Lovers' Day".
Hearts, flowers, padlocks, candies – everything is wrapped in redness to the dismay of high-brow 14 February critics.
Valentine's Day - named after an early Christian saint who may have been imprisoned by Romans for illegally performing weddings - is when people send anonymous messages or gifts love. But its spiritual value has been overshadowed by the commercial focus for stationers, restaurateurs and other retailers.
However, in some countries Valentine's Day is banned by law and those who try to celebrate it furiously fought against.
In Saudi Arabia, the regime backed by the Commission for Promotion of Virtue and Prevention of Vice take a firm stand against Valentine's Day.
Every year, the Saudis implement legislation that forbids selling anything that is red in the week ahead of 14 February. Any merchant found selling red roses or red clothing of any kind or heart-shaped products has to destroy them or be shut down. The Saudi police have even arrested women for wearing red on that day.
Controversial Saudi cleric Sheikh Mohammad al-Arifi said that embracing Valentine's Day makes Muslims "resemble those who are immoral".
"TV channels and other media outlets shouldn't be promoting Valentine's Day in any way," Arifi wrote on his Twitter account.
An article published in the London-based al-Arab newspaper said: "The Promotion of Virtue and Prevention of Vice [religious police] wages a fierce war against all that is red in the color of Valentine's Day: red flowers, red shirt, red hat, even red car".
Valentine's Day is outlawed based on a fatwa against "pagan holidays" and flowers, gifts candy are purged annually ahead of the festivity.
A spokesman for the Saudi virtue commission, Sheik Ali Qarni, said the ban was based on the fact that Muslims know the meaning of true love - which is the love of God.
"Muslims are people of love, as evidenced by the fact that this word appears in [the Koran] 83 times," Qarni told the newspaper Al Watan in 2010.
The phenomenon has created a black market for daring owners of flower and gift shops, with prices of roses rising at least four times their original price.
So next time you find yourself moaning for those red heart-shaped boxes - think again.